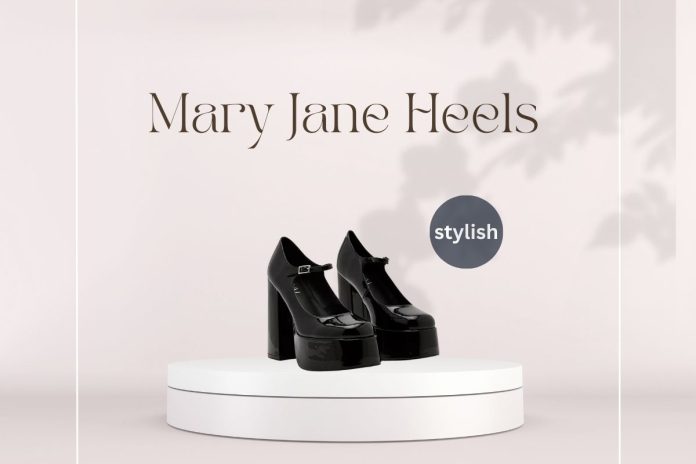 Mary Jane Heels are a type of shoe that features a strap across the instep and a low or medium heel. They are named after a character from a comic strip in the early 20th century, who wore this style of shoes. They are popular among women of all ages, as they offer a blend of comfort and elegance. You can wear them with various outfits, from casual to formal, and can suit different occasions, from work to parties. In this article, we will explore the history, the varieties, and the tips of wearing Mary Jane Heels.
History of Mary Jane Heels 
The name of Mary Jane heels comes from a comic strip character called Buster Brown, who was created by Richard Felton Outcault in 1902. His sister, Mary Jane, wore shoes with a strap across the instep and a low or medium heel, and the Brown Shoe Company named them after her in 1904. 
Both boys and girls wore Mary Jane heels at first, but they became more of a girl's shoe in the 1930s in North America and the 1940s in Europe. Women also started liking them in the 1920s. 
Nowadays, Mary Jane heels are a timeless and adaptable shoe option for women of all ages. They can match different outfits and events, from casual to formal. They are made of various materials, colors, and styles, and some have platform heels or big buckles. They are a mix of comfort and elegance and a sign of girlhood and femininity.
Varieties of Mary Jane Heels
You can find different kinds of Mary Jane Heels in the market, such as:
Sparkly heel: These Mary Janes have a dazzling crystal-decorated block heel that makes you look glamorous and shiny. They are crafted in Italy from gold mesh and have the Prada logo on the strap.
Pointy-toe flats: These types of shoes are flat and have a pointy toe that gives them a refined and classy look. They are made from black leather and have a buckle closure on the strap.
Slip-ons: These heels are comfy and cozy, as they are made from soft and airy fabric that feels like socks. They have a rubber sole that gives traction and durability and a velcro fastening on the strap that makes them easy to put on and adjust.
Glitter flats: Glitter flat shoes are simple and elegant, as they are made from sparkly leather and have a smooth leather lining. They have a small stacked heel and a crossover strap that is adorned with a crystal buckle.
Needle heels: Needle-heel Mary Janes are sexy and stylish, as they have a high and thin heel that makes your legs look longer. They are made from black leather and have a detachable strap that is attached to a gold eyelet on the heel.
Wedge: These Mary Jane Heels are bold and edgy, as they have a thick and chunky wedge heel that gives height and stability. They are made from shiny patent leather and have a round toe and a buckle fastening on the strap.
Square-heel: These heels are chic and modern, as they have a low and wide heel that gives comfort and support. They are made from camel-colored leather and have a T-bar strap that is fastened with a gold buckle.
Furry: These Mary Jane Heels are warm and cozy, as they have a wool lining that keeps your feet snug and dry. They have a braided strap that adds some texture and a rubber sole that gives grip and cushioning.
Animal print: These shoes with animal print are stylish and trendy, featuring a leopard pattern that adds a touch of uniqueness and character to your attire. They are made from calf hair and have a point-toe shape and a suede strap.
Tips to Wear Mary Jane Heels
For work, create a sophisticated, yet age-appropriate look that balances the shoe's "schoolgirl" feel. Complete your outfit by pairing these shoes with a pair of wide-leg trousers and a crisp button-up shirt. This will create a contrast that highlights the playful and clean lines of the shoe's retro style.

Wear them with a well-tailored dress. A fitted sheath dress or a wrap dress can match the shape and style of the Mary Jane Heels. You can also complete the look with some accessories, such as a belt, a scarf, or a necklace.

During the weekend, showcase your style by wearing slim-fitted cropped boyfriend jeans, a basic t-shirt, and a well-fitted blazer. This will create a casual chic outfit that is perfect for brunch, shopping, or hanging out with friends.

Display your admiration for the 1990s by incorporating a set of sturdy Mary Janes into your outfit, paired with a slip dress, white t-shirt, and a coordinating scrunchie that will evoke nostalgic feelings in the best way.

For a quick style upgrade, pair a flowy, puff-sleeved dress with some sleek Mary Jane flats. This will create a cottagecore chic look that is cozy and romantic.

Expand your shoe collection by opting for Mary Janes in a variety of hues, instead of only settling for black. Choose a vibrant pair and pair them with an all-white ensemble to make them pop, showcasing their uniqueness and avoiding any dullness associated with these shoes.

Mary Janes goes well with the dark academia aesthetic, as it already has a boarding school vibe. You can wear them with a plaid skirt, a sweater vest, and a blazer for a scholarly and sophisticated look.

You can wear these shoes to the office too. Instead of matching them with a skirt or dress, experiment with a silk button-up shirt, plaid trousers, and Mary Jane loafers to give a unique twist to those ultra-feminine shoes.

For a versatile range of styles, pair heels with socks. You can choose from different types of socks, such as lace, fishnet, or ruffled, and different colors, such as white, black, or pastel, to create different moods and styles with your Mary Jane Heels.
Bottom Line
Mary Jane Heels has a rich history and a diverse range of varieties that cater to different preferences and occasions. Whether you choose sparkly heels, pointy-toe flats, or furry options, these shoes offer a blend of comfort and style that can elevate any outfit.