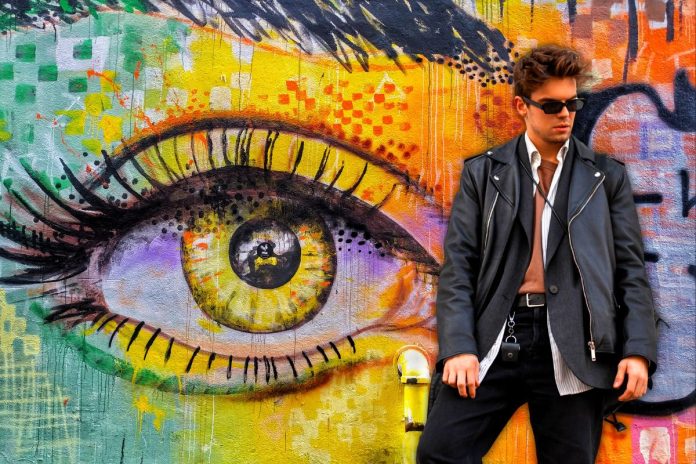 Leather jackets are a timeless fashion staple that has been popular for decades. They come in different styles and sizes. But one trend that is gaining popularity is the oversized leather jacket. 
What is an Oversized Leather Jacket?
An oversized leather jacket is a type of jacket designed to be larger than the wearer's standard size. This style offers a unique and trendy look that can add an edge to any outfit. The jacket is a perfect choice for those who want to make a bold fashion statement. Also, its loose-fitting style creates a relaxed and effortless look for casual outings. The oversized jacket also provides comfort and freedom of movement. These make it a great option for those who are always on the go.
Oversized leather jackets are available in many colors, textures, and finishes, such as the classic black leather jacket is always in style. But other popular colors include brown, tan, and even brightly-hued options. 
The jacket is made from different leathers. These include cowhide, sheepskin, and lambskin, each with its own unique look and feel.
The History of an Oversized Leather Jacket
The history of the oversized leather jacket can be traced back to the early 20th century. It was first worn by aviators and pilots as a practical form of protection against the elements. The jacket was designed to be large and loose-fitting to accommodate the bulky clothing worn by pilots at the time. This style quickly became popular among the general public and was eventually adopted by various subcultures, such as bikers, rockers, and punks, who saw it as a symbol of rebellion and individuality.
In the 1950s and 1960s, the leather jacket was worn by the "greasers," a subculture of young men known for their love of motorcycles, rock and roll music, and their rebellious attitude. The leather jacket became a symbol of the greaser subculture and a statement piece.
The leather jacket became a popular fashion item for men and women in 1870, with designers such as Yves Saint Laurent and Gucci incorporating it into their collections. 
The Pairing of an Oversized Leather Jacket
An oversized leather jacket matches different clothing styles. Pair the jacket with a t-shirt, jeans, and sneakers for a more casual look. With a button-down shirt and pants for a dressed-up look, and many more. This versatility makes the oversized leather jacket a great addition to any wardrobe.
Purchasing an Oversized Leather Jacket
 Fit is key when purchasing an oversized leather jacket. Therefore, try the jacket before buying it, and pay attention to the shoulders and sleeves. The shoulders should not be too tight, and the sleeves should be long enough to cover your wrists when your arms are relaxed at your sides.
The Pros of Wearing an Oversized Leather Jacket
Comfort
An oversized leather jacket can be a comfortable option for those who prefer a looser fit. This can be especially beneficial for layering during colder months.
Style
The jacket adds a trendy and edgy look to any outfit. It can also be paired with different clothing items and dressed up or down depending on the occasion.
Durability
Leather is a durable material that can withstand wear and tear. An oversized leather jacket can last for years if well-maintained, making it a worthwhile investment.
Versatility
A leather jacket can be worn in any season and paired with different styles. From a casual daytime look to a night out on the town, an oversized leather jacket can be dressed up or down to suit any occasion.
Warmth
Leather is a natural insulator that can help keep you warm in colder weather. An oversized leather jacket can provide an extra layer of warmth on chilly days and can serve as a stylish alternative to a bulky coat.
The Cons of Wearing an Oversized Leather Jacket
While an oversized leather jacket can be stylish and versatile, it also has drawbacks. Here are a few cons of wearing one:
Cost
Leather is a premium material that can be costly. An oversized leather jacket can be a significant investment, but the cost may be prohibitive for some people.
Maintenance
Leather requires special care and maintenance to keep it looking good. These include regular cleaning, conditioning, and protecting the leather from water and stains. Neglecting this proper care for a leather jacket can lead to cracking and discoloration.
Size and Fit
Finding the right fit can be challenging as it may not conform to the standard sizes. It can also be difficult to find the proper balance between a jacket that is too tight and too loose.
Climate
Leather can be heavy and hot to wear in warmer weather. It can also be uncomfortable to wear in humid climates.
Animal Rights
Leather is a product of the meat industry, the production of which can involve the inhumane treatment of animals. Some people choose to avoid leather products for ethical reasons.
Where to Purchase an Oversized Leather Jacket
Department stores
Many department stores sell different leather jacket styles. This can be a good option for trying different styles and fits to find the perfect one.
Online retailers
 Online retailers like Amazon, ASOS, Zara, and many others offer a wide selection of leather jackets. They also offer deals and discounts.
Designer brands
Brands Gucci, Prada, Saint Laurent, and many others offer leather jackets in their collections. These can be more expensive than other options, but the quality and craftsmanship are usually high.
Vintage and second-hand stores
If you're looking for a unique and one-of-a-kind oversized leather jacket, vintage and second-hand stores can be great options. These stores have a wide selection of vintage leather jackets that are sure to stand out.
To sum it up
The oversized leather jacket is a versatile and trendy fashion choice that can add an edge to any outfit. It offers a relaxed and effortless look that is perfect for any occasion. However, it is important to choose a jacket that fits well and is made from high-quality leather for a long-lasting and stylish piece. Also, weigh the pros and cons before making a decision, and consider if there are alternative materials that can meet your needs.