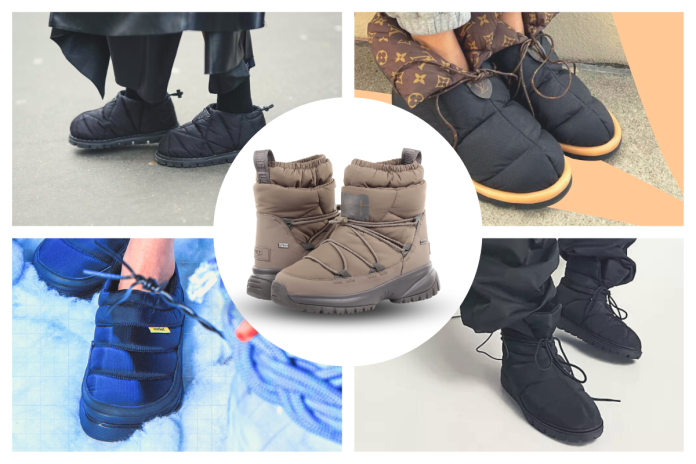 The latest, trendiest, yet bizarre comfy shoes, puffer shoes are making a huge comeback, and we are loving it. Everyone is all the rage and celebrities like Rihanna and Bella Hadid are already set in the pace in the puffy world. 
Puffers are plush and comfy. Your wardrobe might be already filled with all things puffers from jackets, vests, bucket hats even phone cases. The ensemble is enough to make a cushioned aesthetic. And although these fashion trends have been around for a while, they started becoming mainstream as the winter months kicked off. 
Surprisingly, puffy shoes, sluffers, or puffy sandals(whatever you choose to call them) have been brought to the limelight to grace the summer months. Proof that your tootsies will not only be getting all the comfort only in winter but also in the summer months. And yes, they are fashion-forward, utilitarian, and made with functionality in mind. It's like bringing your cozy emotional slippers outdoors as designers come up with creative ways to meld both comfort and fashion together. Who said you have to compromise comfort for style? The good thing is this footwear can be worn everywhere from a dog walk, or lazy afternoon pool to a vacation.
Women's Puffer Shoes That Are Stylish and Comfy
Here are our picks of the best puffer shoes that have become a must-have in every closet. 
This goes beyond your regular flip-flop as it doesn't only look stylish but also provides the same slip-on-and-go functionality. They are the softest, most comfortable puffers ever. The flip-flop features a tooth covered in Terry cloth that hugs your feet perfectly. 
These are great examples of casual slides that are far from boring. Cross straps are favorites among shoppers for good reasons. The contoured footbed, the versatility, the beautiful designs, the arch support, and more. The feet are perfectly snuggled into the sandal making it a great fit even for those with feet. 
This throwback trend is still fresh and fashionable. Whether it's a preferred option to a high-heeled stiletto or casual evening wear, this summer-friendly footwear will take your dressing from zero to hero. Different brands are all ready to serve with fun colors and patterns. If you are all on for early-aughts fashion, this is a must-have. 
If you favor a heel for an evening look makeover, this subtle silhouette, with unique puffy straps and comfortable padded insole, slides into these sandals easily and shows forth on grad style for the party. You can also style it with a cute floral dress and tote hat for a refreshing summer look. The block heels also add a modern touch to the whole ensemble. 
Give your feet some treat of exceptional comfort and style with puffer clog. It's a quilted puffer, a memory foam, cushioned footbed, warmed with soft lining. There are water-resistant, machine-washable designs that ensure fresh, long-lasting effects. Great for both indoors and outdoors. Plus, it comes in different colors and patterns including leopard print. 
Quilted Slide-heeled Slippers
If you are torn between wearing a high-heeled sandal, or a puffy flat, this is the right option for you. It's the bridge between the high heel and flat ones which offers a comfy yet fashionable look. These slides are easy to slip on and they just look as good as they feel. The padded strap is comfy and you can gracefully make any sidewalk your runaway. 
Whatever the occasion, heeled mules have got you covered. They have become the go-to of many and these have remained loyal for all outings. They are even more versatile than thinner heels and they can be paired perfectly with both casual or formal outfits. The puffiness added an extra bit of comfort. Pair it with wide-legged trousers for an effortlessly chic vibe or with shorts for a lazy evening in the park. 
The padded-heeled sandals are making a statement among the host of others. It features square-toed heels with soft pillowy straps. This trend is also seen in the form of color blocking with a knotted vamp. Bring your color games on with colored popping-heeled sandals and stand out amidst the crowd. 
Spice up your wardrobe with this everyday minimalist thong style. It's a leather design that features a flat sole and bold puffed straps. With this, you are definitely summer ready. 
Bottomline
Bring the "hit " or "heat" to your wardrobe with these puffer shoes. Whether you are a minimalist, there is a plethora of fashionable flap-puffy sandals that are available to up your fashion game. And whether yours are heels, different mules in different heels and colors can transform your outfit in no time. Brands are also coming with fashionable puffer shoes for all occasions and seasons. So if you need an upgrade or are ready to hop on the fashion trends, you can't go wrong with any of these.