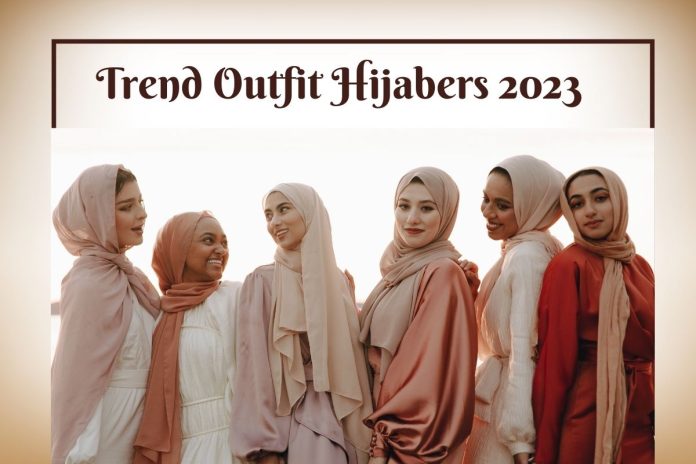 Hijab fashion has been evolving and growing increasingly trendy over the past few years. The models are also very diverse, making it easier for the wearer to express their personal style. As we are in 2023, new hijab fashion trends have emerged, and they are here to stay. In this article, we'll be discussing the trend outfit hijabers 2023.
Trend Outfit Hijabers 2023
: The Different Looks
Edgy Look
The edgy look is one of the most popular hijab fashion trends in 2023. It can be regarded as a style of dress that is out of the box and has a character almost similar to a rock star, only with a touch of classic and bohemian style. The edgy look is usually dominated by dark colors like black, dark brown, maroon, etc. With this style, you can express your bold and daring personality while still keeping your hijab modest.
Clean Look
The clean look is a new hijab fashion trend that emerged in 2023. Gen Z, which consists of teenagers to young adults, prefers this look that tends not to have many details. A clean look, usually dominated by bright colors such as white, pastel, neutral, and light blue jeans to gray, can enhance the skin tone and make the wearer look simple and elegant. You can achieve this look by keeping the clothing simple and focusing on the quality of the fabric.
Monochrome Look
The monochrome look has been trending for a while, and it's not going anywhere in 2023. The monochrome look is a simple but elegant style where you wear one color from head to toe. You can achieve this look by wearing a black turtleneck with black jeans or a white blouse with white pants. 
Trend Outfit Hijabers 2023: The Different Wears
Wrap Outerwear
Outerwear is often a must-have fashion item in hijab fashion. Wrapped outerwear is a major trend for hijab-wearing women in 2023. This outerwear is versatile since it pairs well with dresses and other outfits. You can wear this with a pair of jeans or a maxi skirt, and it will give you a chic and elegant look. The wrap outerwear comes in different styles, such as open or closed, and different materials such as cotton, denim, and leather.
Sportswear Hijab
Sportswear often used by hijabs will also be one of the hijab fashions that are a trend in 2023. You can create a trendy and up-to-date sporty style by relying on sportswear. You can combine a long hoodie with leggings or training pants. Pair it with a sneaker to get a casual and sporty appearance. This style is perfect for those who have an active lifestyle or want to achieve a laid-back, comfortable look.
Long Outerwear
The following hijab fashion trend is super long and outworn. This outer, which can be said to be like a robe, is revived in hijab fashion in 2023. There are various styles and models of super long outerwear from multiple materials that you can choose from and match the clothes you wear. This style can make you look taller and slimmer while still keeping you modest.
Trend Outfit Hijabers 2023: The Different Outfits
Hijab Styled with Puffy Full-Sleeved Dress
This hijab outfit features a lightweight gown with long, puffy sleeves and a floral-patterned hijab. It's the perfect look for summer as it keeps you cool and protects your skin from the sun's rays. You can also add a denim jacket and a red belt with golden metal insignia for a unique twist.
Stylish Hijab with Suit Pant Set
Who says you have to match your hijab to the colors of your outfit? This outfit hijab Karen features a red hijab paired with a white suit and pants. It's a contemporary and bold look that's perfect for any occasion. Accessorize with a black crocodile leather sling bag, a golden watch, and pencil heels for added glamor.
Floral Outfits
Motifs can be important points to support appearance, including for hijabs. If you're going for a sophisticated, feminine aesthetic, floral patterns may be your best bet. Not only that, but floral motifs can also be a sweetener for simple and casual styles to make them more attractive. You can wear a floral dress or a blouse with a pair of jeans or a maxi skirt to achieve this look.
Black Scarf-Styled Hijab with Cardigan
Bring back the retro look with a black scarf-styled hijab, a black shirt or t-shirt, and a white cardigan. This outfit hijab Karen is perfect for warmer days and can be worn to school or formal events. Add a black sling bag and black sunglasses for a sleek and sophisticated look.
Trendy Hijab with Long Ribboned Outfit
For a pretty and calming look, try a light and trendy hijab with a casual white long ribboned gown. This hijab long dress with a denim jacket is perfect for summer and can be dressed up or down with the right accessories.
Modern Scarf-Styled Hijab with Denim Jacket
A modern scarf-styled hijab paired with a denim jacket and pants is a chic and simple style that's perfect for any occasion. Add a satin shirt underneath the jacket for added elegance and protect your eyes with lightweight sunglasses. Sneakers make the perfect footwear choice for hijab outfits in winter or summer.
Conclusion
The trend outfit Hijabers 2023 is all about modernizing modest dressing and staying on-trend. From puffy full-sleeved dresses to suit pant sets and black scarf-styled hijabs with cardigans, there are plenty of fashion-forward options to choose from. With the right accessories, you can make any of these looks your own and stay fashionable while staying true to your beliefs.