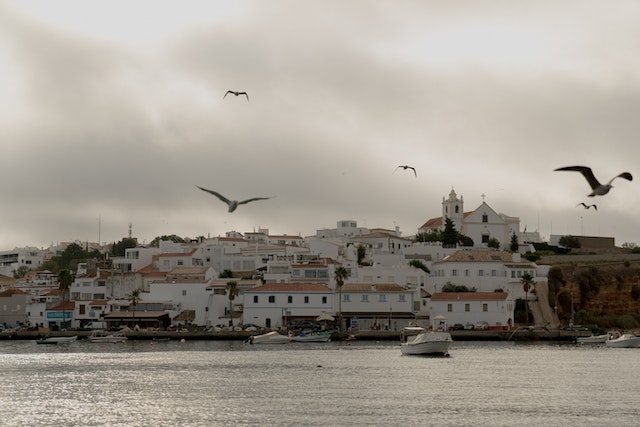 With its sunny weather, laid-back lifestyle, and culture, California has long been seen as a symbol of the American Dream. But did you know that there is a European destination that is often compared to the Golden State? Dubbed the "California of Europe," this destination has captured the hearts of travelers with its vibrant atmosphere, stunning natural beauty, and thriving economy. In this article, we'll explore the reasons why this destination has earned its nickname and what makes it a must-visit spot for anyone looking to experience the California lifestyle on the other side of the pond.
Besides you are correct if you guessed that the destination referred to as the "California of Europe" is Algarve, Portugal! Moreover, this European region is known for its resemblance to California, thanks to its sunny climate, relaxed lifestyle, and beautiful beaches.
Why Algarve, Portugal is referred to as the "California of Europe"?
Algarve, Portugal is often referred to as the "California of Europe" due to its similarities to California in terms of climate, lifestyle, and natural beauty. In addition, the region is famous for its warm and sunny weather, stunning beaches, and laid-back way of life. As per the reports, this destination gets an average of 300 days of shine Per year.
Just like California, Algarve attracts surfers, beach-goers, and outdoor enthusiasts. Looking to experience the California lifestyle on the other side of the Atlantic. Additionally, Algarve has a thriving tourism industry and a reputation for being a popular retirement destination for Europeans, much like California is a popular place to retire in the United States.
Tropical Modernism in the Algarve: Innovative Architecture for a Warm Climate
The Algarve region in Portugal is home to a number of modernist buildings designed for a tropical climate. These buildings were often designed with the warm Mediterranean climate in mind, incorporating features such as large windows for natural ventilation, shaded terraces for outdoor living, and white-painted walls to reflect the heat. Some of the most iconic modernist buildings in the region include the Hotel Quinta do Lago, designed by Portuguese architect Gonçalo Byrne, which features a striking curved façade and a rooftop garden with panoramic views of the surrounding landscape.
Portuguese architect Atelier Rua designed Casa do Cerro, a notable building characterized by clean lines and open-plan living spaces that blur the boundary between indoor and outdoor living. These modernist buildings are a testament to the creativity and innovation of Portuguese architects, who have been able to adapt their designs to the unique challenges and opportunities presented by the Algarve's tropical climate making this destination a replica of California also known as California of Europe.
Historic Iconics of Algarve to visit
The Algarve region in Portugal has a rich history and many historic landmarks that are worth a visit. And here are some of the most iconic historic sites in the Algarve:
Silves Castle: This medieval castle in the town of Silves dates back to the 12th century and offers stunning views of the surrounding area.
Cape St. Vincent: This is the southwesternmost point of mainland Europe and was an important navigational landmark for seafarers in ancient times.
Roman ruins of Milreu: These Roman ruins in Estoi date back to the 1st century AD and include a villa with a central courtyard, thermal baths, and mosaics.
Alcoutim Castle: This castle in the town of Alcoutim dates back to the 14th century and offers views over the Guadiana River, which forms the border with Spain.
Faro Old Town: The historic center of Faro is home to several notable landmarks, including the 13th century. Faro Cathedral and the Arco da Vila are among them, a gate dating back to the 19th century.
Sagres Fortress: The people of the town of Sagres built this fortress in the 15th century to defend against pirates and other invaders.
Tavira Castle: This castle in the town of Tavira dates back to the 13th century and offers views over the town and the Gilão River.
Moreover, these are just a few of the many historic landmarks to visit in the Algarve. Each site offers a glimpse into the region's rich history and cultural heritage.
Best Places to Stay in the Algarve Portugal
The Algarve region in Portugal has a variety of beautiful and unique places to stay. Depending on your preferences and budget, Here are some options to consider:
Lagos: This historic town has plenty of charming accommodation options, including boutique hotels and guesthouses, and is a great base for exploring the stunning beaches and cliffs in the area.
Albufeira:  Secondly this bustling resort town has a wide range of accommodation options, from luxury hotels to budget-friendly apartments, and is ideal for those looking for a vibrant nightlife and a lively atmosphere.
Vilamoura: This purpose-built resort town offers a variety of luxury hotels, golf courses, and marinas, and is a great choice for those seeking a more upscale and exclusive experience.
Tavira: This picturesque town on the eastern Algarve has a charming historic center and a range of accommodation options, including boutique hotels and rental villas, and is a good option for those looking for a quieter, more relaxed stay.
Sagres: The stunning natural scenery surrounds this small town on the western tip of the Algarve. Visitors can find a range of accommodation options, including boutique hotels and surf camps. It is an excellent choice for those seeking an active holiday.
Furthermore, Other options include Portimão, Carvoeiro, Faro, and Olhão, each with its own unique character and attractions.
Best Things to Do in the Algarve
The Algarve region in Portugal offers a range of activities and attractions for visitors to enjoy. Furthermore, Here are some of the best things to do in the Algarve:
Visit the beaches: The Algarve is known for its stunning coastline, with plenty of beautiful beaches to explore. Some popular options include Praia da Rocha, Praia da Luz, and Praia do Vau.
Explore the natural parks: The Algarve has several natural parks, including Ria Formosa Natural Park. This destination is home to a variety of bird species. The Southwest Alentejo and Vicentine Coast Natural Park have stunning cliffs and beaches.
Enjoy water sports: With so many beaches, the Algarve is an ideal destination for water sports. The sports could be surfing, stand-up paddleboarding, and kayaking.
Visit historic sites: The Algarve has a rich history, with several historic sites to explore. Including the Moorish Castle in Silves and the Roman ruins at Milreu.
Try the local cuisine: The Algarve has delicious local cuisine, with seafood being a particular specialty. Some must-try dishes include grilled sardines, cataplana (a seafood stew), and pasteis de nata (Portuguese custard tarts).
Play golf: The Algarve is a popular destination for golfers, with plenty of championship courses to choose from.
Visit the markets: The Algarve has several markets selling local produce, handicrafts, and souvenirs. Destinations are the Loulé Market and the Portimão Market.
Attend festivals and events: The Algarve hosts several festivals throughout the year. Algarve includes the International Music Festival and the FIESA Sand Sculpture Festival.
In addition, these are just a few of the many things to do in the Algarve.  Which has something to offer for every kind of traveler.
Is Algarve Portugal Worth it?
Yes, the Algarve region in Portugal is definitely worth a visit. It has a stunning coastline with beautiful beaches, clear waters, and dramatic cliffs. Algarve enjoys a warm and sunny climate for much of the year. Algarve makes it an ideal destination for outdoor activities and relaxation. Moreover, Enjoying a family holiday in Algarve Portugal would be a perfect getaway for this easter or Summer holidays.
The Algarve also offers a range of accommodation options, from luxury resorts to budget-friendly guesthouses. Moreover, Algarve has good transportation connections, making it easy to explore the region.
Overall, the Algarve is a beautiful and diverse destination. It is well worth a visit for anyone looking for a mix of sun, sea, culture, and relaxation.