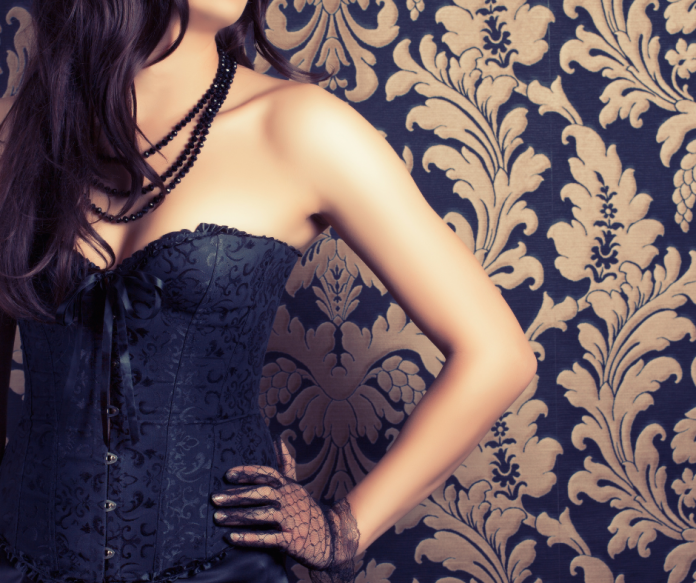 You are beautiful. Yes you! Just the way you are! Corset seems to be the thing these days and for good reasons. They bring out your feminine curves and make you appear more sexy. The well-rounded protruding bursts, the tiny waist, "the hips don't lie". Corsets are really doing a good job at bringing out that feminine shape that every woman desires. And from clear corset to ribbon corset to corset belt, there are tons of corsets out there to help serve the purposes. 
Corset have dated back to centuries and it has evolved over the years. The aim was to constrain the torso and the waist in order to achieve a more cylindrical shape. Hence, lifting the burst line and reducing the waist. It has over the years grown into something used for fashion, fun, Cosplay and achieving certain body goals. Celebrities as well are taking the front seats when it comes to achieving the hourglass form with corsets. They are setting the standards  for an ideal sexy figure. This has led to the wide acceptance and popularity of corsets. 
Can a corset help to change your body shape? How can it be used to reach your body goals? These and many more are the questions that keep pouring and we are here to answer all that. Read on for the full scoop!
What are corsets?
Corsets are an article of clothing worn to shape the body. It helps to constrict the  waist, support the bosom and give an illusion of a larger bottom. It can be worn. Initially, corsets were seen as a staple in women's wardrobe worn as undergarments but it has now extended to outward decoration. While it's sometimes used for aesthetics or fashion purposes, some wear it for medical reasons to support a weak or injured back. This is not to forget about corsets for waist training. The idea is to compress the rib by tightening the corset around the female figure. This type is a steel boned one to modify your waist and get an accentuated, so-desired hourglass figure.
There are also underbust or overbust styles. As the name suggests, overbust corsets are usually higher onto the torso area whereas underbust are just beneath the burst wrapping around the ribcage. If the idea is to up your wardrobe game and make a statement on your anniversary or birthdays, you can sure go for overburst. Therefore, giving you a flattering figure. However, for a snagged, slim waist, or the purpose of waist training, underbust might be ideal.
How to style a corset?
If your aim is fashion, there are different ways to rock a corset even during daytime and still look beautiful as ever. You can throw it over a long button-down shirt and then pair with boots. How about wearing it over distressed jeans or a clear corset on a shirt dress. You can also decide to wear yours underneath a well-fitted blazer. When it comes to corsets, the possibilities are endless. 
However, for waist training or corseting, styling is quite different. As earlier said, the steel boned is used as it is made to cinch the waist while bringing out your feminine curves. The corsets are tightened with the laces tied at the back. This will make it fit perfectly at the waist area and it can be worn over or under your clothing. When worn under the clothing, it is always advisable to wear a layer in between your skin and corset like a corset liner to avoid skin irritations. 
How to use corsets in body modification?
One of the most used female modification tools is corsets. It is seen as a body modification form because it asserts pressure bodily and can overtime lead to structural change of the body. People who use corsets for waist training follow a very strict regimen. This is to say they wear it for at least 8 hours everyday in order to get the desired results. However, a good rule of thumb if you are just getting started is to wear it for 1.5 to 2 hours. Then, work your way upward to 6-8 hours a day to see results.
Moreover, one of the frequently asked questions is if corset can restrict air flow or cause fainting? Yes, it might if it's too tight. That is why you need to go for the right size and don't tie too tightly. If you are experiencing any type of pinching, choking, poking or any uncomfortable situation, you might have to put it off. 
Can a corset change your body shape?
Corsets used for fun or fashion purposes will not change your shape. The waistline is going to revert to its position when the corset is taking off. However, you can experience changes with long-term usage. It is also important to note that long term usage might only lend itself to semi-permanent changes. Our body wants to stay within certain parameters and when you discontinue usage for an extended period of time, it might revert to its normal position. Therefore, even when you have reached your desired goals, you might still need to be wearing corsets occasionally to maintain the shape.
Does wearing a corset really work?
The answer is Yes if you for a long period of time. Also, it must be paired with regular exercise. That is why waist trainers seem to be quite popular among fitness enthusiasts. Also, remember that our body shape, diet and routine are different. Don't compare your journey with others and no matter the shape you are in, you are beautiful. Society standards of beauty should not dictate what we feel about ourselves and our body.