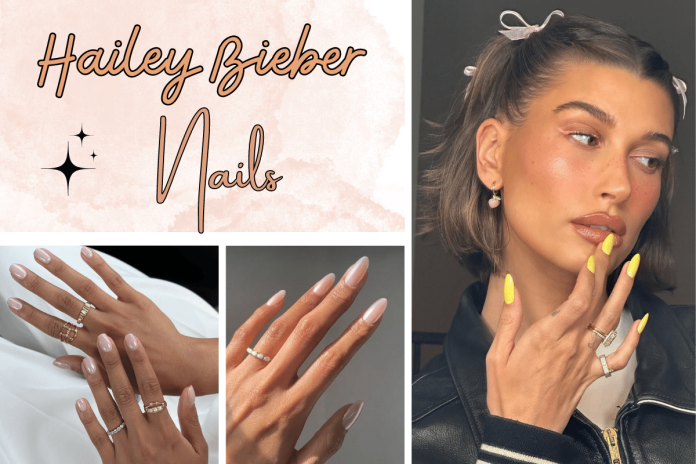 Hailey Bieber, a prominent figure in the fashion and beauty industry, has captured the attention of nail enthusiasts worldwide with her ever-evolving Hailey Bieber nails. From glazed donut nails to mismatched designs, Hailey has proven time and again that she is a trendsetter in the nail game. This article looks at some of the most popular and eye-catching nail designs by her. We will give you tips on how to do them yourself and stay fashionable. Get ready to delve into the world of Hailey Bieber nails!
Mismatched/Abstract Nails
Hailey Bieber recently posted pictures of her nails on Instagram with unusual patterns. Each one has a special look, like purple swirls or yellow and pink dots. People love this trend because it is fun to try something different and be creative. Trying to make this complicated nail design may seem difficult, but there are easier choices out there. For example, Misssix brand press-on nails can help you get a different look without much effort.
Minimalist French Tips
Put a modern twist on the traditional French manicure, like Hailey Bieber's simple French tips. Instead of the traditional white tips, opt for muted tones like nude, blush pink, or soft gray. You can also experiment with different shapes, such as diagonal or asymmetrical tips, to add a touch of uniqueness. This modern take on the French manicure offers a subtle yet stylish look that is perfect for any occasion.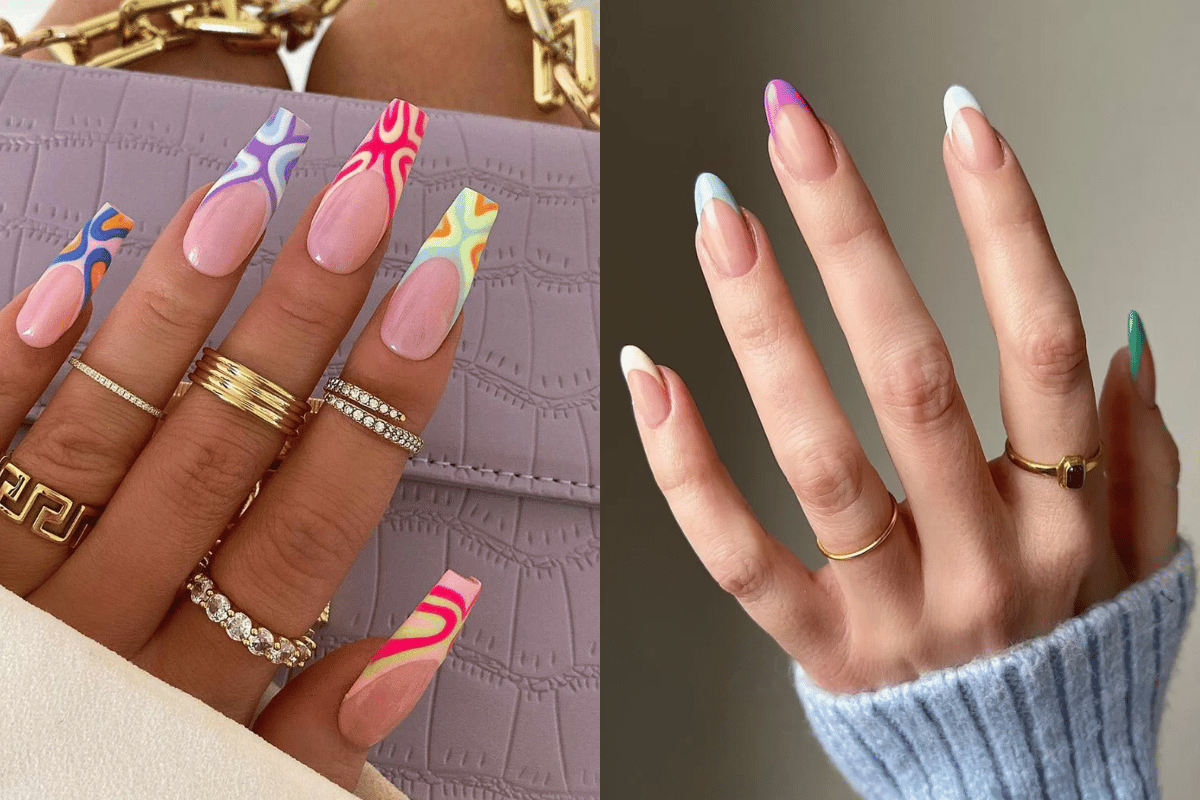 3D Embellished Nails
Hailey Bieber has been spotted with 3D embellished nails, showcasing her bold and daring side. These nails feature textured elements like rhinestones, beads, studs, or even tiny charms. The key to achieving this look is to use a clear gel or acrylic base to adhere to the embellishments securely. Show your creativity by playing around with different sizes, shapes, and positions of the 3D decorations for an awesome-looking nail design.
Glazed Donut Nails
Hailey Bieber's "glazed donut nails" have taken the beauty world by storm. These Hailey Bieber nails feature a mesmerizing combination of white pearls and a cool chrome finish, offering a modern twist to the classic neutral manicure. Hailey's secret lies in the layering technique, where she applies a thin layer of color and adds chrome dust for a captivating shine. Get the perfect look by using OPI Professional products. Try the Stay Strong gel base coat, Funny Bunny GelColor, and Tin Man Can Chrome Effects Mirror Shine Nail Powder. These products can be found at Walmart, allowing you to experiment with the glazed donut nails right at home.
Chocolate Glazed Donut Nails
Hailey Bieber started a trend of chocolate-glazed donut nails for fall. People got excited about the new design, which features rich brown colors that look warm and stylish. This new version of the traditional glazed donut has a cozy, stylish brown look. Hailey's nail artist, Zola Ganzorigt, used a combination of OPI Stay Strong gel base coat, Stay Shiny gel top coat, and OPI Chrome effects in Tin Man Can. To achieve the rich brown shade, she incorporated DND gel colors in Coffee Bean and Spice Brown. By following this recipe, you can adorn your Hailey Bieber nails with a delectable and stylish manicure.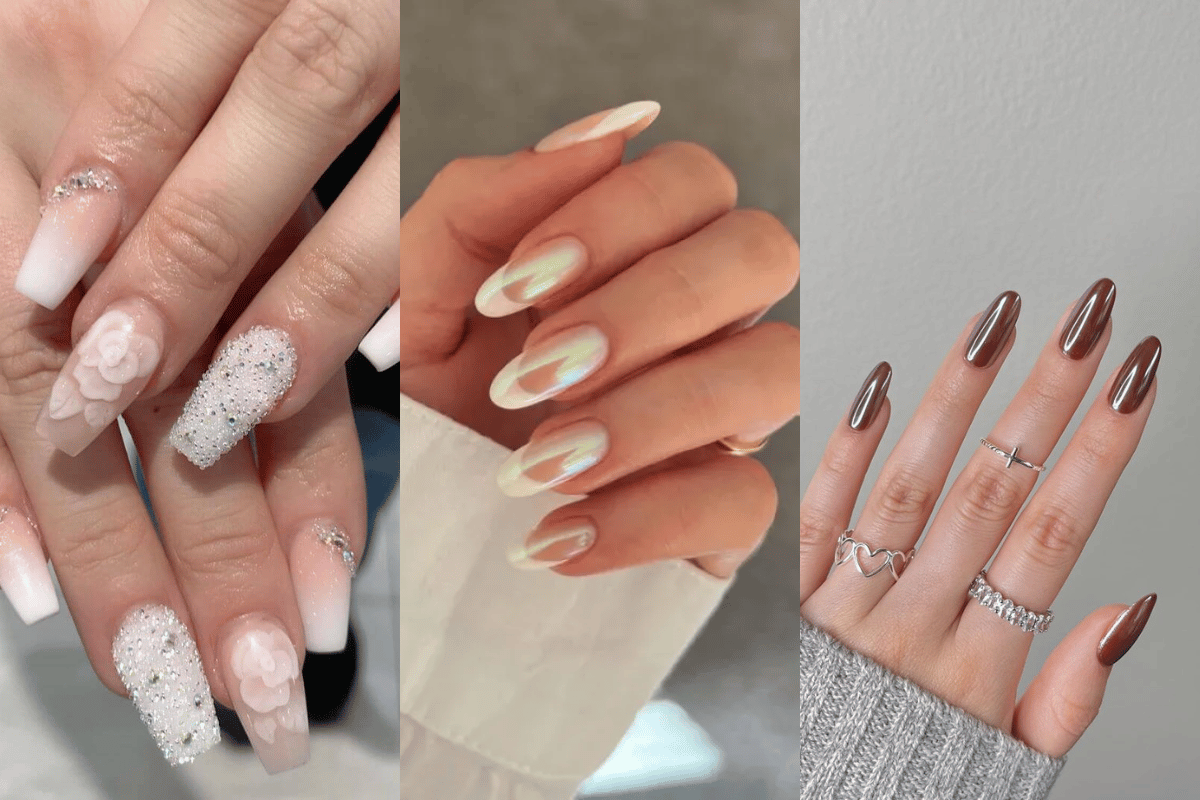 Candy Cane Glazed-Doughnut Nails
Hailey Bieber looks great this holiday season with her candy cane-decorated fingernails. This attention-grabbing design has red French tips with a sweet candy cane look. It is topped with a glossy top coat and its special glazed finish. With OPI GelColor Stay Strong Base Coat, Funny Bunny, Big Apple Red, and Chrome Effects Tin Man Can color, you can easily recreate Hailey Bieber's cheerful nail look.
Glow In The Dark Neon Nails
Hailey Bieber isn't afraid to venture beyond neutrals, as evident in her "Glow in the Dark" neon nails, designed for Coachella. This look has bright colors, wavy lines, and shiny gold touches. Start with OPI GelColor Stay Strong Base Coat to get this pretty manicure. Mix No Faux Yellow and Green Come True Gel Color with the Stay Strong Base Coat. Then, sprinkle a little bit of glow-in-the-dark powder on top. Finish the design with OPI GelColor in Suzy's Slinging Mezcal and OPI Chrome Effects in Gold Digger. Let your nails glow and shine under the Coachella lights!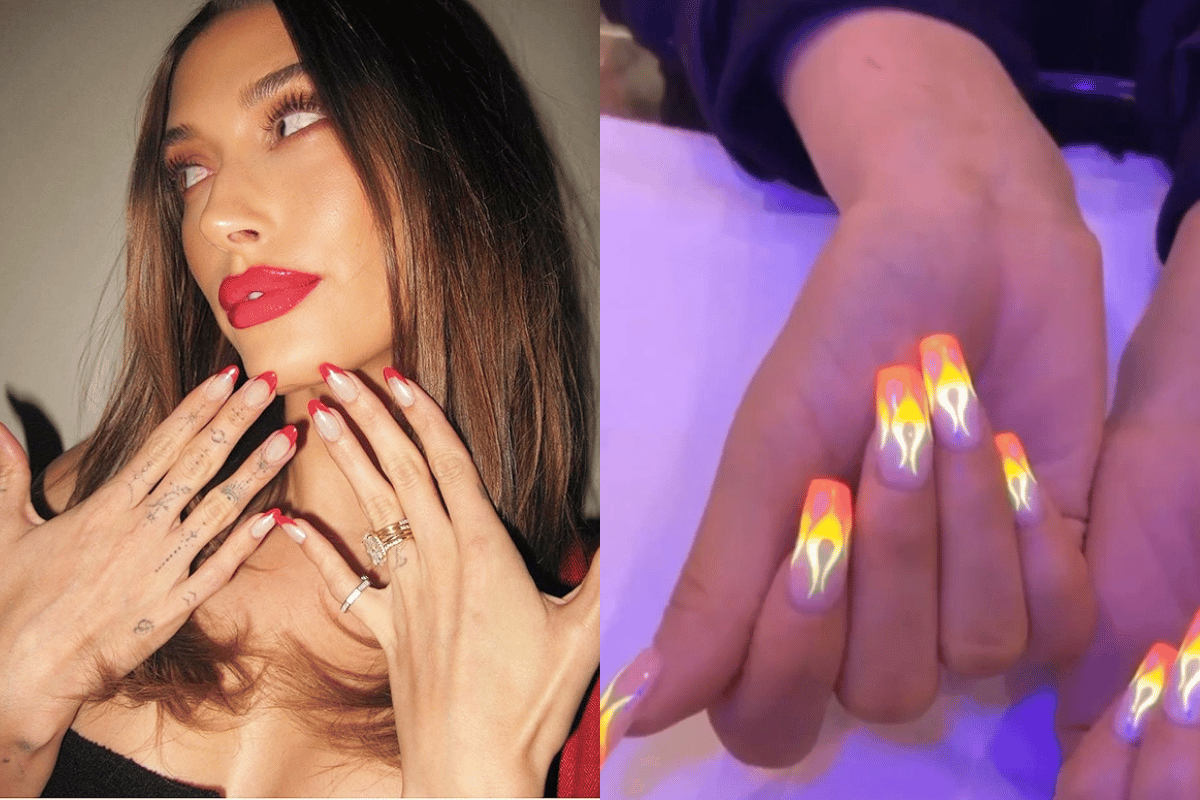 Bottom Line
Hailey Bieber nails have become an inspiration for nail enthusiasts worldwide, showcasing her creativity and fearless approach to manicures. Whether you're drawn to the mesmerizing mismatched designs, the lustrously glazed donut nails, or the festive candy cane-inspired look, there are ways to recreate these iconic Hailey Bieber nails. By following the tips and product recommendations provided, you can embrace Hailey's trendsetting style and make a bold statement with your own manicure. Step into the world of Hailey Bieber nails and let your creativity flourish!