When HBO Max released the series called The Way Down, people couldn't help but notice something intriguing about Gwen Shamblin and her hair. Viewers took to Twitter to express their confusion and fascination with Shamblin's voluminous hairstyle. The show revolves around Shamblin, a renowned American dietician, and her participation in a Christian diet program that emphasizes the connection between physical fitness and spiritual well-being. However, amidst all the intriguing aspects of the series, it is Gwen Shamblin hair that has caught everyone's attention. Let's explore why her unique hairstyle has become a talking point among viewers.
What was Gwen Shamblin's Hairstyle?
Gwen Shamblin was well-known for her distinctive hairstyle, featuring a large, teased bouffant. She began sporting this look in the early 1990s, and it became a defining characteristic for her.
Many theories surround why Shamblin chose to wear her hair in this manner. Some think she did it to appear taller and slimmer, while others believe it was to exude authority and strength. Some believe she simply enjoyed the way it looked.
Regardless of the reason, Gwen Shamblin hair captivated people's attention, sparking both admiration and criticism. Some praised her confidence and fearlessness, while others accused her of vanity. Nevertheless, her unique hairstyle set her apart from the crowd.
Following Shamblin's passing in 2021, her hair became an even more talked-about topic. Some see it as a symbol of her control and manipulation, while others interpret it as a form of self-expression. Ultimately, the meaning behind Shamblin's hair is open to individual interpretation.
Gwen Shamblin's Weight Loss and Religion Journey
Gwen Shamblin struggled with her weight as a kid, so she learned about food in college. In the 1980s, she combined her love for losing weight and religion by starting The Weigh Down Workshop. But in the late 1990s, her weight-loss ideas turned into a strange cult. She made her own church and said she was a prophet preaching about being thin and beautiful. Gwen Shamblin's hair became more prominent as her following grew in her church.
The Weigh Down Workshop taught women to only eat when they felt really hungry. They were encouraged to see eating as a way to worship and love the Lord. It became popular and spread to churches in many places.
The Tragic Fates of Gwen Shamblin Lara and Church Leaders
On May 29, 2021, Gwen Shamblin Lara, along with her husband Joe and son-in-law Brandon Hannah, found themselves caught in a devastating event. 
Their journey aboard a 1982 Cessna Citation 501 private jet, bound for Palm Beach, Florida, took a tragic turn when the aircraft crashed into Percy Priest Lake near Smyrna, Tennessee, shortly after taking off. Gwen Shamblin's husband, Joe Lara, was flying the private jet.  This heartbreaking incident claimed the lives of Gwen, Joe, Brandon, and four other church leaders who were also on board.
'The Way Down': HBO Max Docuseries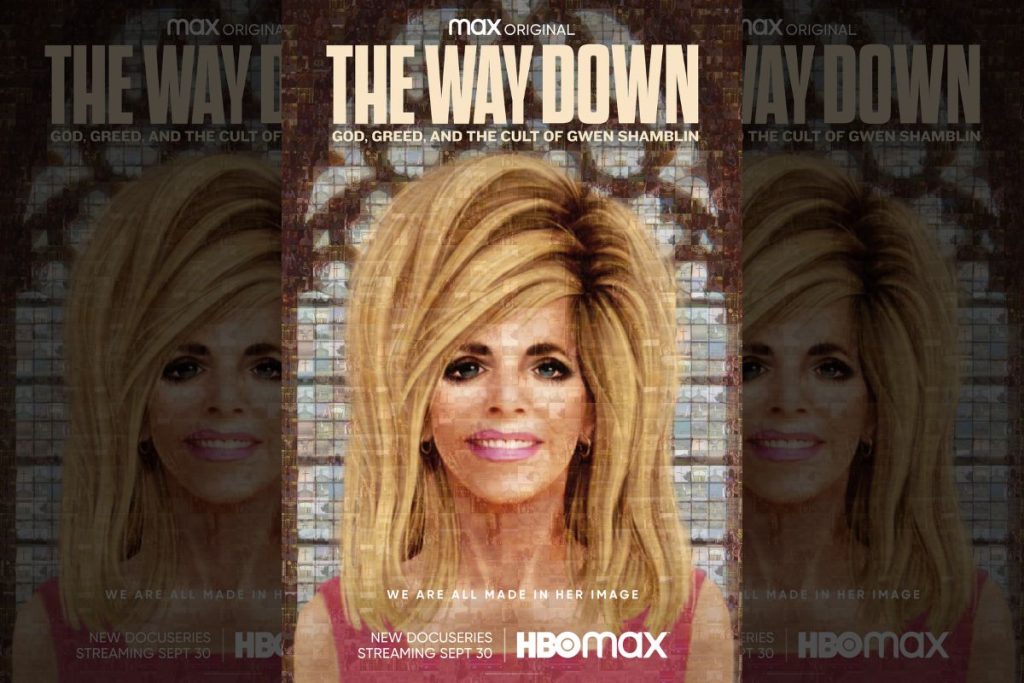 Marina Zenovich's HBO Max docuseries, The Way Down: God, Greed, and the Cult of Gwen Shamblin, tells an unbelievable story. It follows Shamblin's life, from being a regular churchgoer in a peaceful place to becoming the leader of a religious cult. However, this story takes a dark turn as it reveals the presence of abuse, manipulation, and even murder. 
The events unfold in a wealthy suburb called Franklin, Tennessee, where Shamblin grew up. She was brought up in a very strict and conservative church, called the Church of Christ, where women were not allowed to speak, pray, or preach in public. This experience taught Shamblin about the power of strict religious rules and how they can be used to control others.
The Ever-Transforming Hair of Gwen Shamblin
Gwen Shamblin hair underwent noticeable transformations as her cult, known as 'The Way Down,' continued to gain followers. In the docuseries, viewers witness Shamblin's evolving hairstyles paralleling the growth of her church. 
During the early 1990s, she sported a natural, short blonde haircut that framed her face with inwardly straightened locks. This style remained her signature look for most of the decade. However, as the 2000s unfolded, her hair began to adopt bolder heights. 
By 2021, Gwen Shamblin embraced an extreme side part, teasing her tresses to taller dimensions. Additionally, she favored voluminous updos placed atop her head, achieving magnificent heights. This transformation gave rise to speculations that what happened to Gwen Shamblin's hair? 
Gwen Shamblin Lara's Hair Takes Center Stage on Twitter
Twitter users couldn't help but comment on Gwen Shamblin Lara's hair during the documentary. One viewer wondered about the correlation between the growing size of Gwen Shamblin's hair and her increasing extremity. Another jokingly noted that in the documentary #TheWayDown, Gwen Shamblin seemed to genuinely embrace the belief that "the higher the hair, the closer to God." 
A third user expressed curiosity, asking why Gwen Shamblin hair had such an unconventional style, leading to several Twitter users responding with confusion and intrigue.
Bottom Line
Gwen Shamblin hair became a point of fascination and discussion among viewers of HBO's 'The Way Down.' It underwent noticeable transformations over the years and became a symbol of her persona and the growth of her cult, sparking admiration, criticism, and speculation. Ultimately, the meaning behind Shamblin's unique hairstyle is subjective and open to interpretation.