Back in the 1970s, before flashy hairdos showed up on social media, people had a different idea of summer hair. Rock 'n' roll musicians and their fans let their hair grow wild and free. Leading the way in this carefree hair attitude was the amazing Stevie Nicks, who is going to be 75 years old in 2023. For Stevie Nicks, there was no such thing as a bad hair day. In this article, we will take you on Stevie Nicks hair journey from the 70s to the 2000s. 
Stevie Nicks' Hair Transformations
Stevie Nicks' hairstyle has inspired countless fans, who admire her signature shawls and the shaggy hair she rocked in the 1970s. Over the years, Nick has changed her look many times. Some of her favorite styles include her current long and sleek locks. However, there have been other hairstyles that she didn't like as much.
In a well-known video from 1977, Nicks can be seen preparing for a performance with her friend Robin Snyder. She always took care of her own hair, brushing and teasing it backstage. Sometimes she would twist her waves into a loose knot at the back. It didn't matter which way the wind blew, she always made her hair look great. 
Nicks had a bohemian style, with a beautiful fringe that touched her eyelashes and relaxed waves. She would wear her hair up or down, with a top hat or crochet headpiece. Her hair always looked effortlessly sexy, just like her flowy capes and peasant skirts.
Stevie Nicks has been an inspiration with her ever-changing hairstyles, and her ability to transform her look effortlessly is truly amazing.
Stevie Nicks' Hair Journey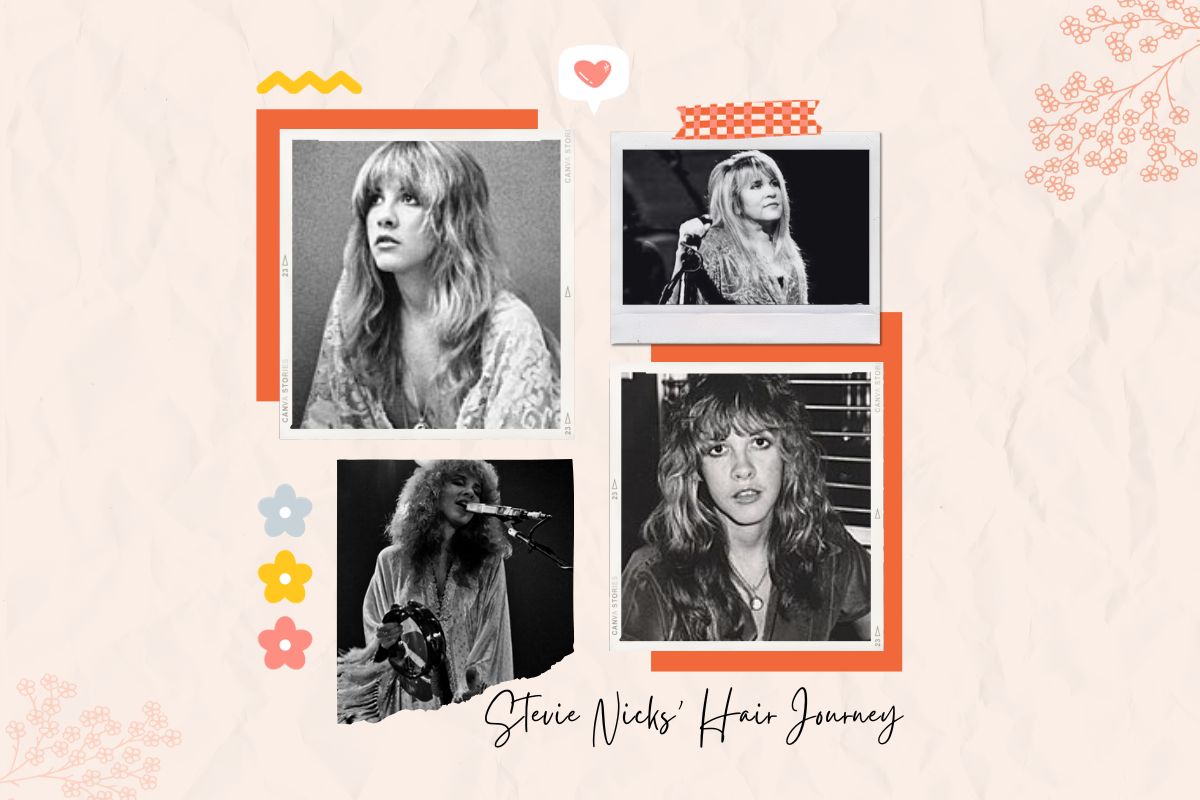 During her high school days, Stevie Nicks sported short and naturally colored hair. However, when her family relocated from Utah to California, she decided it was time for a transformation. In his book "Gold Dust Woman: The Biography of Stevie Nicks", Stephen Davis recounts that Nicks encountered difficulty at the end of her tenth-grade year due to her decision to get hair streaks. 
Instead of just making it blond, her hair was streaked silver, leaving it with an ivory hue. This rebellious act led to a six-week grounding. Nevertheless, Nicks embraced her new look and refused to revert.
Since that hair-changing episode, Stevie Nicks has fearlessly embraced various hairstyles, continuously seeking new and adventurous looks throughout the years.
Stevie Nicks' Hair: The Good, the Bad, and the Peculiar
Stevie Nicks hair has had its ups and downs throughout her life. She's had some hairstyles that she now looks back on and cringes. One of her biggest hair disasters happened in 1987 when she attended a birthday party. She wore a teased mullet that she describes as the worst hair moment she's ever had. She even begged for divine intervention, exclaiming, "God help me!"
In 1990, she made another hair choice that she now finds amusing. She refers to herself as "The Wedding Singer Part 2!" It seemed like she wanted a change from her usual dirty blonde hair. She went for a Cher-inspired look with tight curls and dark hair. However, she admits it wasn't the best choice. She laughingly said, "What was I thinking? I look like a poodle in a satin dog coat."
Nowadays, Nicks has settled into a different hairstyle. She keeps her hair in bangs and prefers a long and straight appearance. This is a departure from her previous love for perms and crimping in the past. But this new look suits her perfectly and she couldn't be happier with it. Stevie Nicks hair journey has had its fair share of hiccups, but now she's found the perfect match for herself.
Achieve Stunning Stevie Nicks Hair with Easy Steps
If you desire gorgeous Stevie Nicks hair, similar to her platinum blonde look, here's a straightforward guide to help you achieve it:
To maintain hair like Stevie Nicks, clean it only 1-2 times a week or even less frequently. Before washing, make sure to detangle your strands. You can choose between a diluted shampoo-conditioner wash or a low-poo formula. Alternatively, opt for a product specially formulated for bleached or colored hair. Remember to use lukewarm water for washing.
Wash your hair thoroughly and apply a hydrating rinse-out conditioner from your ears to the tips. Detangle your hair in small portions, either using your fingers or a wide-tooth comb.
Once detangling is complete, rinse your hair well. Finish with a refreshing cool or cold water rinse, as it aids in closing the cuticle and retaining moisture. Towel blot your hair to remove excess water.
Apply a leave-in styling cocktail, which can include a leave-in conditioner, defrizzing product, and mousse or styling cream. These products will assist in styling and managing your hair effectively.
If you have naturally straight or slightly wavy hair, you may consider air-drying for a more natural appearance. If air-drying is not an option, use a long-finger diffuser in a low, cool setting. Divide your hair into small, horizontal sections and dry each section evenly.
Note: For a sleek style, use a wide barrel 100% boar bristle paddle brush or a round brush in combination with a blow dryer on a low, cool setting.  Dry each section individually until your entire head is dry.
Spritz a lightweight shine or styling spray onto your hair. Use your fingers to arrange the strands or gently brush them with a boar bristle paddle brush for added style and polish.
Bottom Line
Stevie Nicks hair has been a symbol of freedom and defying hair norms with her boho chic style. From her wild and carefree locks in the 1970s to her sleek and polished look today, she has inspired countless fans with her ever-changing hairstyles, proving that embracing your own unique style can be truly amazing.