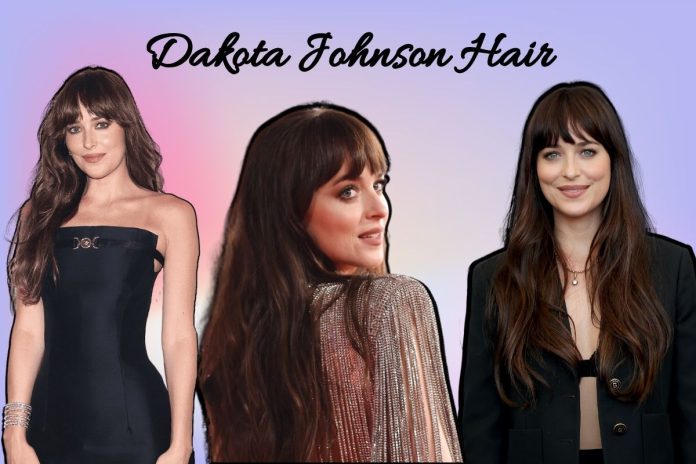 If you've ever admired Dakota Johnson's beautiful brown hair and captivating bangs, you'll be in for a pleasant surprise. Prepare to do a double-take as you catch a glimpse of her latest hairstyle. In recent pictures, the actress reveals her shortest hair to date, and to top it off, she's rocked an astonishing platinum blonde hue. Yes, you heard it right – Dakota Johnson hair has undergone a stunning makeover.
Gone are the familiar dark locks we all adore. Instead, Dakota now flaunts a striking and vibrant shade of blonde that completely changes her appearance. Despite the shift, she has chosen to retain her distinctive fringe, adding a touch of familiarity to this bold and daring transformation. Join us as we dive deeper into Dakota Johnson hair journey and explore how this captivating change can potentially redefine her signature style.
Dakota Johnson Hairstyles Over Time
The 72nd Golden Globe Awards
Dakota Johnson, the talented actress, showcased a stunning hairstyle at The 72nd Golden Globe Awards in Los Angeles on Sunday, January 11th, 2015. Her beautiful hair stole the show with its long, loose waves gracefully cascading down. The medium brown shade of her locks added warmth and depth to her overall look. Dakota also opted for thin bangs that delicately framed her face, enhancing her natural beauty. The wavy texture of her hair added a touch of effortless glamour to her red carpet-appearance. 
UK Premiere of 'Fifty Shades Of Grey
At the UK premiere of the highly anticipated movie 'Fifty Shades Of Grey' held on February 12, 2015, in London, Dakota Johnson, the famous actress, caught everyone's attention with her stylish hair. Her long, medium-brown hair was neatly straightened, giving it a sleek and polished look. To add more charm, she chose to have thin bangs that beautifully framed her face. Dakota Johnson's hairstyle was effortlessly elegant and added a touch of glamour to her appearance on the red carpet.
2016 EE British Academy Film Awards Nominees Party
Dakota Johnson, the talented actress, looked stunning at the 2016 EE British Academy Film Awards Nominees Party on February 14th, held at The Royal Opera House in London. Her hair stole the spotlight, with long, medium brown locks styled flawlessly straight. Adding extra flair to her look, Dakota incorporated thin bangs that framed her face beautifully. With angled light brown highlights adding depth and a touch of elegance, and peek-a-boo highlights seamlessly blending in, Dakota Johnson hair choice was nothing short of perfection. Her hairstyle perfectly complemented her overall appearance at the event, making her stand out on the red carpet.
Filming 'Fifty Shades Darker in Vancouver
Dakota Johnson and Max Martini were seen filming scenes for the movie 'Fifty Shades Darker' in downtown Vancouver, Canada on Friday, March 4, 2016. Dakota Johnson's hair looked amazing during the filming. She had light brown highlights in her hair, which added some warmth and depth. Her hair was long and had beautiful layers that flowed down. Dakota also had medium brown peek-a-boo highlights that blended in nicely. She had straight bangs that framed her face nicely, and her hair had a wavy texture that added some charm.
Stylish Hair at Los Angeles International Airport
Dakota Johnson was seen at Los Angeles International Airport in California on Thursday, July 21, 2016, rocking a trendy hairstyle. Her hair grabbed attention with its fashionable and simple yet elegant look. She opted for a blunt-cut bob that added a touch of sophistication to her overall appearance. Light brown highlights were added to her medium brown shoulder-length hair, creating depth and dimension. 
Dakota's hair was straightened neatly, giving it a sleek and polished finish. To complete her stylish look, she sported straight bangs that added a trendy edge. The combination of light and medium brown tones gave her hair a two-tone effect, further elevating the style. Dakota Johnson's hair choice while traveling through the airport showcased her fashion-forward vibe.
31st Annual American Society of Cinematographers Awards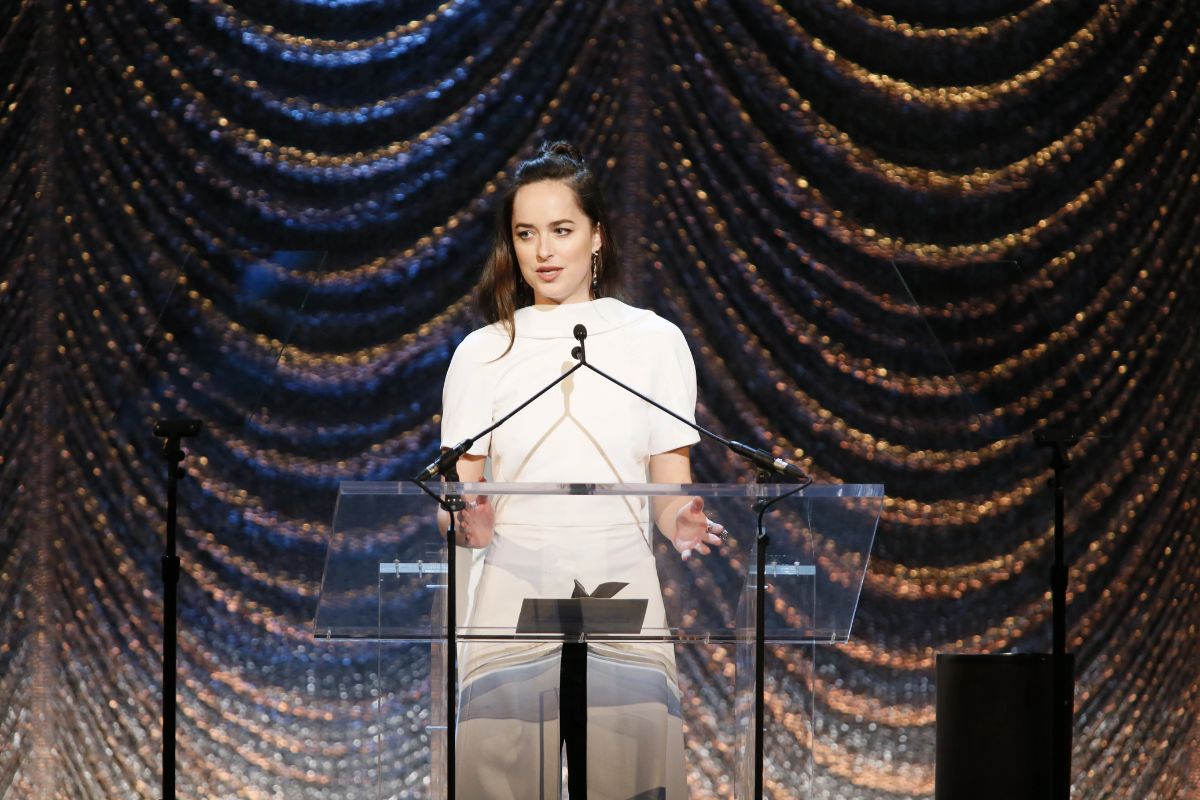 Dakota Johnson, the famous actress from the Fifty Shades of Grey movies, had an amazing hairstyle at the 31st Annual American Society of Cinematographers Awards. The event took place at the Ray Dolby Ballroom in Hollywood, California on Saturday, February 4, 2017. Dakota opted for a simple yet elegant dark brown half-up half-down bun for her long and straight hair. The bun was positioned neatly on top of her head, giving her a classy and sophisticated look. Dakota's choice of hairstyle showcased her versatility and undoubtedly caught everyone's attention at the event.
2018 Big Screen Achievement Awards
At The Colosseum at Caesars Palace in Las Vegas, Nevada, on Thursday, April 26, 2018, Dakota Johnson attended the CinemaCon present at The 2018 Big Screen Achievement Awards. All eyes were on her beautiful hairstyle, as she showed off her stunning Dakota Johnson Hair. With a simple and elegant look, Dakota rocked medium brown straight hair styled into an updo. Her hair was perfectly arranged, and she had curved bangs that framed her face. Dakota looked absolutely amazing and proved once again that she's a true style icon.
Dakota Johnson's Hair Transformation in 2023
In a surprising twist, Dakota Johnson has transformed her hair into a stunning platinum blonde shade, and she looks absolutely fabulous! This drastic change has left everyone in awe, as it's quite different from her usual brunette locks. Interestingly, this isn't the first time Dakota has experimented with being a blonde. Long ago, in her breakout film, The Social Network, she actually rocked the blonde look!
Since then, Dakota's career has blossomed, and she's been a part of many more movies, each time sporting her signature brunette hair. However, it's refreshing to see her embracing her blonde roots once again. She looks incredible and has a strong resemblance to her talented mother, Melanie Griffiths. However, this hair transformation is likely temporary. The pictures were taken on the set of Dakota's upcoming movie, Daddio, indicating that this change is for her character in the film.
Interestingly, there seems to be a prevailing trend among celebrities experimenting with blonde hair lately. Just like Dakota, we've witnessed other popular figures such as Kaia Gerber and Kim Kardashian trying out lighter shades. This can't be just a mere coincidence, can it?
Nonetheless, we no longer have to wonder what Dakota Johnson hair would look like with a completely different hair color. Now we know, and it's truly captivating!
Bottom Line
Dakota Johnson has surprised everyone with a stunning platinum blonde hair transformation, a departure from her usual brunette locks. While this change is temporary for a movie role, it has captured attention and added to the current trend of celebrities experimenting with blonde hair.