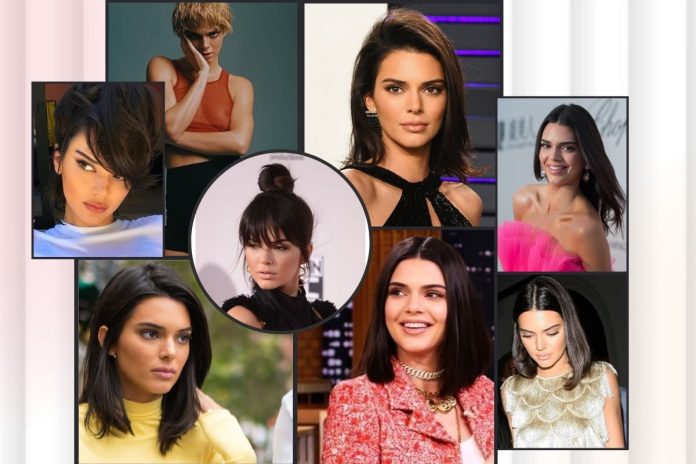 Kendall Jenner is renowned for her modeling and fashion acumen, as well as her innovative hairstyles. Her most recent cut debuted at Coachella, creating a major stir in the fashion industry.
On April 15, model Kendall Jenner got a subtle haircut known as a "dusting" done by celebrity hairstylist Justine Marjan. It added a shaggy texture to Jenner's hair while maintaining the same length. Her hair was styled with a slight curve to add volume and create an effortless look.
In this article, we will delve deeper into Kendall Jenner's haircut, discussing its features, how to achieve it, and why it has become a trend in the hair fashion industry.
The Dusting Haircut: Subtle Yet Strategic Snip
Kendall Jenner's new haircut has been referred to as "dusting," a subtle yet strategic snip that gives hair a lightweight and healthy appearance, making it virtually undetectable. A dusting haircut is similar to a trim, but it removes less hair from the length. It is an effective way to make the hair look fuller and healthier without sacrificing any length. This is an ideal cut for those who don't want a drastic change, yet still want their hair to be shiny, voluminous, and healthy.
The Ghost Layers Haircut: Subtle Micro-Layers for Added Volume
Kendall Jenner's haircut also includes subtle micro-layers, which are known as ghost layers. These layers are incorporated into the lengths of the hair, giving it a shaggy and effortless effect while adding volume. The micro-layers are super-subtle, making them almost invisible to the naked eye, but they play a significant role in creating Kendall Jenner's new hairstyle.
The 90s-Esque Bend: Framing the Face Perfectly
Kendall Jenner's haircut features a 90s-esque bend, which frames her face perfectly. This style is achieved by curling the hair slightly at the ends, giving it a bend that flows in the breeze perfectly. The bend also adds to the shaggy and effortless effect of the haircut, making it look natural and relaxed.
How to Achieve Kendall Jenner Haircut
To get Kendall Jenner's new haircut, speak to your hairstylist about dusting. This technique trims the hair to create a fuller and healthier look without reducing the length. You can also ask for subtle micro-layers, which will add volume to your hair and give it a shaggy and effortless effect.
To achieve the 90s-esque bend, you can use a curling iron to curl the ends of your hair slightly. Make sure to curl only the ends and not the entire length of the hair to achieve the natural and relaxed look that Kendall Jenner has.
What Makes Kendall Jenner's New Do So Popular
The new cut Kendall Jenner debuted has become popular because it is so understated and effortless. In particular, the dusting haircut is great for people who aren't ready to take the plunge into a drastic new style but yet want full, healthy hair. The micro-layers give the hair body and structure, creating a casual, summery shaggy look.
The new cut Kendall Jenner debuted is not only elegant but also adaptable to a wide range of looks. Hair that has been given a dusting haircut and ghost layers will seem full and healthy whether you choose beachy waves or neat styling.
Why Should You Have Your Haircut Like Kendall Jenner?
The Kendall Jenner haircut is a great option if you want to maintain your hair's length while yet appearing modern and chic. Here's why:
Minimal Upkeep 
The Kendall Jenner haircut is great since it requires less upkeep. The low maintenance of this cut is due to its subtlety and careful planning. The time between haircuts may be stretched out without compromising the hair's healthy, full appearance.
Adaptable
The Kendall Jenner haircut is quite adaptable, functioning well with both short and long hair. The dusting method may be modified for those with thick, thin, straight, or curly hair.
Trendy
You will be exactly on trend if you choose to copy Kendall Jenner's hairstyle in 2023. There has been a rise in the number of celebrities and influencers sporting this haircut because of its popularity and its modest, carefree appearance.
Adds Volume
The Kendall Jenner haircut is praised for its ability to give hair more volume. You can have a gorgeous, voluminous appearance with no effort and without using a ton of style products if you get a haircut that makes your hair seem fuller and healthier.
Draws Attention to the Face
The Kendall Jenner haircut is also fantastic for setting off the features of the face. You may frame your face and bring attention to your greatest features by trimming little sections of hair around the front of your hair.
Good for Hair Health
The dusting method is great for your hair since it entails trimming the hair in a smart and subtle manner. By snipping off your split ends and any other damaged strands, you can keep your hair in good condition and encourage new development.
Fantastic Choice for the Warmer Months
The Kendall Jenner haircut is a terrific choice if you want a short, stylish hairstyle for the summer. This cut is wonderful for hot summer days because of its understated style and the extra volume that will keep your hair looking beautiful no matter how high the humidity.
Simple to Style
Last but not least, the Kendall Jenner cut requires less effort to maintain. The versatility and ease of care of this cut mean that it can be used to create a variety of different looks without requiring a hefty investment in time or money spent on styling aids.
Conclusion
Kendall Jenner's new haircut has taken the fashion world by storm, and it is easy to see why. The dusting haircut and ghost layers add volume and texture to the hair while maintaining its length and natural look.