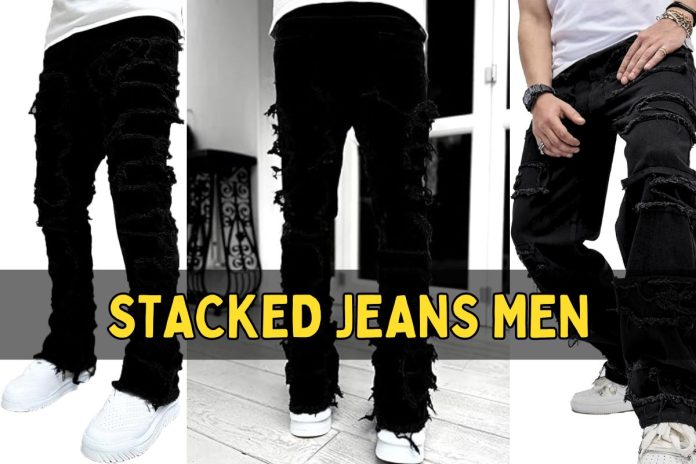 Are you tired of the same old boring jeans? Want to add some style and edge to your wardrobe? Look no further than stacked jeans. This trend has taken the fashion world by storm, and it's not just for women. Men can also rock this look effortlessly. If you're wondering what exactly stacked jeans men are and how to style them, then keep reading!
What are Stacked Jeans?
Stacked jeans, also called stacker jeans, are a popular type of denim in the fashion world. They have extra fabric at the bottom, giving a stacked look around the ankles. This adds a cool touch to your outfit. 
You can get this effect by buying longer jeans or rolling up the ends of your regular ones. Stacked jeans are not just stylish, but also keep you warm in colder weather.
Now that you have an idea of what stacked jeans are, let's dive into the section on how to wear them and incorporate them into your daily wardrobe.
Rise of Stacked Jeans Men: A Fashion Trend in Urban Culture 
Stacked jeans have become popular in urban fashion and streetwear in recent years. But did you know that they have been around for even longer? 
At first, stacked jeans were a cool way for celebrities and fashion lovers to show off their fancy sneakers or boots. Nowadays, in our era of following trends and being influenced by social media, stacked denim has become a hot fashion choice.
Streetwear fashion takes inspiration from skateboarding, surfing, hip-hop music, sports, high fashion, and Korean pop culture. Hip-hop music, in particular, has played a big role in popularizing stacked jeans. Famous rappers like Travis Scott, Lil Baby, Future, and Playboi Carti have helped make mens stacked jeans a trendy and sought-after style.
These influences have made stacked jeans more common and led to various ways of stacking denim. One standout style is the super stacked look. Stacked jeans have also become a common choice for many fashion subcultures.
How to Wear

Mens Stacked Jeans

There are different ways you can wear stacked jeans depending on your personal style. Here are some ideas that will help you incorporate stacked jeans into your wardrobe.
Slim fit stacked jeans
For those who prefer a more fitted look, slim-fit stacked jeans are perfect for you! These give off a sleeker silhouette while still maintaining that trendy stack at the ankles. Pair them with a graphic tee and sneakers for an effortless yet stylish outfit.
Baggy or oversized
If you're into more relaxed and oversized clothing, then baggy stacked jeans will be right up your alley. Not only do they offer comfort, but they also give off major streetwear vibes when paired with chunky sneakers and an oversized hoodie.
Three-quarter length
Want to show off your shoes? Three-quarter-length stacked jeans will do just that! These pants hit just above the ankle, creating a perfect opportunity to showcase your favorite pair of shoes or socks.
Ripped or distressed
Looking for something more rugged? Ripped or distressed stacked jeans might be what you need in your closet! The added tears or holes not only add character to your outfit but also give a more edgy and rebellious feel.
Dress them up
Yes, you can dress up with stacked jeans! Opt for a darker wash and style them with a dress shirt, blazer, and loafers for a sophisticated yet modern look. Who said jeans couldn't be worn to a fancy event?
Top it off
Now that you have some ideas on how to wear stacked jeans, let's talk about what tops will complement them the best.
T-shirts
The classic white t-shirt is always a winner when paired with stacked jeans. It creates an effortless and casual look that is perfect for everyday wear. Experiment with different colors or prints to liven up your outfit.
Hoodies/sweaters
For colder days, layering a hoodie or sweater over your t-shirt is the way to go. It makes your outfit more interesting and keeps you warm and comfortable.
Button-down shirts
Button-down shirts are great for any occasion and can be dressed up or down. To look more put-together, tuck in the shirt and add a belt for an extra stylish touch.
Leather jackets
Nothing screams cool like pairing your stacked jeans with a leather jacket! It's an iconic combination that never goes out of style.
Maximizing Your Style with

Men's Stacked Jeans

When it comes to styling your men's stacked jeans, the possibilities are endless. Fashion has come a long way in embracing individuality and modernism, making stacked denim a versatile and acceptable choice in any setting.

One of the great things about stacked jeans is that you can pair them with different types of footwear, whether it's sneakers or boots, and dress them up or down based on the occasion.

Here are some clever ways to rock your stacked jeans:
A Classic Casual Look

: If you're a streetwear enthusiast, you know that a simple T-shirt can make a statement. For a relaxed and comfortable style, pair your stacked jeans with a T-shirt or hoodie. Finish off the look with sneakers or comfy boots.

Layer it On: As the weather gets colder, it's a good idea to wear multiple layers of clothing. Put on a shirt, sweater, or cardigan, and a jacket or coat on top of your jeans. This will make you look fashionable and keep you warm.
Vintage Vogue: Add a modern twist to your look by wearing stacked jeans with a vintage graphic t-shirt or a denim jacket adorned with patches. This combination adds personality and a nostalgic flair to your outfit.
Denim-on-Denim: Embrace one of the hottest fashion trends by doubling up on denim. Wear a denim jacket or shirt with your stacked jeans for a cohesive and put-together look.
Smart Casual Style: Dress up your stacked jeans for a date or a night out by pairing them with a nice casual shirt, like a striped or patterned dress shirt. Finish off the outfit with loafers or dress shoes for a stylish look.
With men's stacked jeans, you can be confident that your style will shine in any setting. So go ahead and explore the endless possibilities of styling these fashionable and versatile jeans.
Bottom Line
Stacked jeans men offer a trendy and edgy style that has gained popularity in the fashion world. With various ways to wear them and endless possibilities for styling, stacked jeans are a must-have addition to any man's wardrobe.