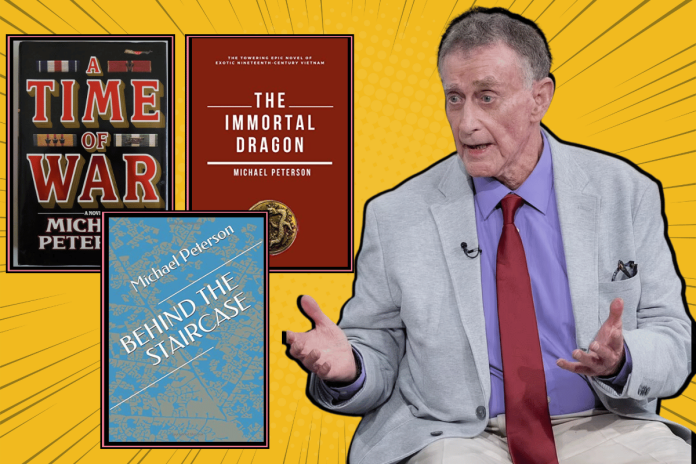 While many are familiar with Michael Peterson's involvement in The Staircase on Netflix and the subsequent documentary based on the accusation that he killed his wife, it is worth noting his successful career as an author prior to these events.
Before his life took a drastic turn, Peterson had already established himself as a talented writer. He gained popularity through his crime novels, which allowed him to amass wealth and live a luxurious lifestyle in a grand mansion.
However, fate had a different plan for Peterson. He became the main suspect in the alleged murder of his wife, Kathleen Peterson. This turned his life upside down and drastically impacted his reputation.
During his time in prison, Peterson took the opportunity to reflect on his experiences and the American justice system. These reflections became the basis for his more recent books, where he offers readers a unique and personal perspective on his time behind bars.
In this article, we will explore the captivating world of Michael Peterson books. We will discuss not only his gripping crime novels but also the profound insights he shares about his journey through the justice system.
Michael Peterson Books
Here are some of the most note-worthy Michael Peterson Books for you to enjoy.
The Immortal Dragon
The Immortal Dragon is a book by Michael Peterson, released in 1983. It's the first in a series called the Vietnam War Trilogy, which includes two other books.
The story is about Andre Lafabre, a young officer from France. He escaped to Vietnam in the 19th century due to disgrace and scandal. In Vietnam, he experiences the country's troubled history filled with violence. He sees emperors, warlords, and rebels come and go.
During his time there, Lafabre falls in love with a Vietnamese woman named Mai Linh. She is beautiful and mysterious, being the daughter of a powerful Mandarin and secretly leading a group against the ruling power.
Lafabre faces challenges from both friends and enemies, as he tries to protect his love and his own integrity.
A Time of War
Michael Peterson wrote a novel called "A Time of War" in 1990. The story takes place just before the Tet Offensive, a big military campaign in 1968 when the Viet Cong and North Vietnamese forces fought against the South Vietnamese and American troops.
The main character in the novel is Bradley Marshall, a diplomat sent to Vietnam by President Johnson to figure out how to bring an end to the war. Throughout his journey, he meets different people like a French spy, a CIA agent, and a young Marine driver. Each of these characters has their own viewpoints and motivations regarding the war.
The novel offers a glimpse into the harsh reality of a hopeless and brutal campaign, as well as the political scheming and corruption surrounding it. It sheds light on the difficult experiences and challenges faced by those involved in the conflict.
A Bitter Peace
"A Bitter Peace" is another fantastic addition to Michael Peterson Books, which tells the story of Bradley Marshall, who faces political and personal struggles. The book came out in 1995. The story is divided into two parts, each set in different times and places.
In the first part, set in 1972, Marshall is sent by President Nixon to Saigon. His mission was to convince the South Vietnamese government to sign a peace treaty with the North. However, Marshall discovers that the North Vietnamese have a secret plan to invade once the Americans leave. He also has to deal with Wilson Lord, a CIA agent who wants to sabotage the peace process. Marshall must decide whether to reveal the truth, which could put American prisoners of war in danger, or stay silent and go against his beliefs.
The second part takes place in 1978. Marshall is sent by President Carter to Paris to negotiate with Ayatollah Khomeini, the leader trying to overthrow the Shah of Iran. Marshall wants to prevent a violent revolution and secure the release of American hostages in Tehran. But once again, he encounters opposition from Lord, who has teamed up with a Chinese assassin named Chien Lin Huong. They plot to assassinate Marshall and disrupt the talks, hoping to start a war between Iran and the US.
Behind the Staircase: All Profits Go to Charity
Behind the Staircase: All Profits Go to Charity (2019) is a memoir written by Michael Peterson, He was accused of killing his wife, Kathleen, in 2001. The book recounts the events of one night when Peterson discovered his wife's body at the bottom of the stairs in their home, covered in blood. He said it was an accident, but the police thought he did it on purpose and arrested him for murder.
The trial took a few months and got a lot of attention from the media. Peterson was convicted and received a life imprisonment sentence without the possibility of parole. Despite maintaining his innocence, he filed an appeal against the verdict.
During his eight years in prison, Peterson had to deal with difficult situations and dangerous inmates. He also wrote letters and books and became friends with some of the other prisoners and guards.
Later on, they found out that a person who was supposed to be an expert in forensics had lied about his qualifications and the evidence he gave in the trial. Because of this, Peterson's conviction was overturned. They offered him a new trial, but he decided to say he was guilty while still saying he didn't actually do it. He was set free in 2017 after serving his time.
After getting out of prison, Peterson faced money problems, fights in court, people judging him, and lots of personal difficulties. But he also got back together with his family and friends and kept writing and speaking about what happened.
The book is for anyone to share and use without worrying about breaking copyright laws. Peterson wrote it to tell his story and his way of thinking, and he promised to donate all the money made from the book to charity.
Santa's Pandemic Cruise
In 2020, Michael Peterson wrote a funny story called Santa's Pandemic Cruise. It's about Santa Claus who decides to take a break from the COVID-19 pandemic and go on a cruise with some people from his village.
They face many challenges like mutiny, pirate attacks, storms, and even encounter a whale and a mysterious island. They meet interesting characters too, like a spy, a doctor, a singer, a chef, and even a mermaid. They also have to deal with the virus and its symptoms.
While on this adventure, Santa learns important lessons about himself, his friends, and his role as the one who brings happiness to the world. He also discovers that someone has been secretly sending him love letters during the cruise.
In the end, Santa and his friends come back to the North Pole just in time for Christmas. They manage to deliver presents to children worldwide, despite the pandemic. They also celebrate their friendship and love for each other. Santa even gives a special gift to his secret admirer.
Bottom Line
Michael Peterson Books offer a diverse range of captivating stories, from thrilling crime novels to reflective memoirs. Despite the challenges he has faced, Peterson's talent as a writer continues to shine through as he shares his unique perspective and captivating storytelling with readers worldwide. You can get Michael Peterson books from various sources, such as online platforms like Amazon, Goodreads, or ThriftBooks, bookstores, libraries, or personal collections.