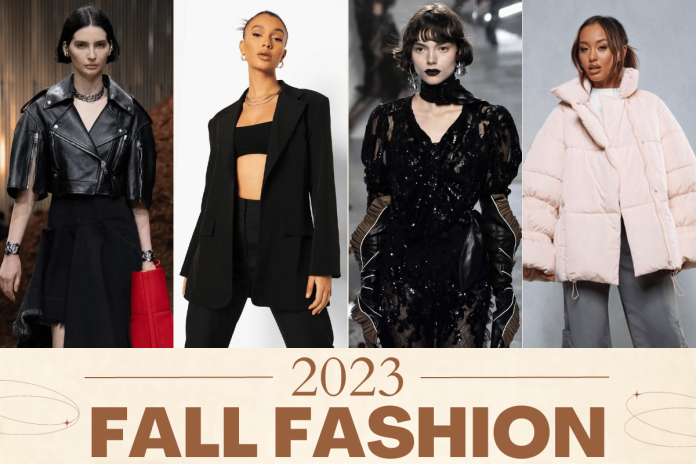 Hey there, fashion-forward folks! Are you ready to revamp your wardrobe and step up your style game for Fall Fashion 2023? You bet you are! It's that time of the year when the leaves turn golden, pumpkin spice lattes are a must, and, of course, the fashion scene is ablaze with fresh trends. In this article, we'll dive into the latest and greatest in Fall Fashion 2023, ensuring you're not only stylish but also cozy. After all, who said you can't have both style and comfort? It's time to break the myth and dive headfirst into a season that's all about looking fantastic while feeling like you're wrapped in a warm hug!
Fall Fashion 2023 Trendy Layers: Cozy and Stylish
Ah, the magic of layers! Fall Fashion 2023 is a season that calls for versatility in your wardrobe. The weather's unpredictable, so it's time to embrace the art of layering to stay warm and stylish. Here's what you need to know:
Oversized Tailoring: Bold and Comfy
Oversized blazers, suits, and coats are reigning supreme this fall. These classic silhouettes are transformed into bold, roomy pieces that can be dressed up or down depending on the occasion.
Styling Tip: For a casual look, pair an oversized blazer with jeans and a comfy t-shirt. To dress it up, match it with a skirt and elegant heels. You can also experiment by layering an oversized blazer over a dress or skirt for a polished finish.
Gothic Glamour: Dark and Romantic
Think Victorian-inspired dresses, corsets, and choker necklaces. The gothic glamour trend is all about embracing dark and romantic elements in your wardrobe. Lace, velvet, and sheer fabrics are your best friends in this trend.
Styling Tip: Go all out with a lace dress, heels, and statement jewelry for a dramatic look. For a more casual approach, match a lace top with jeans and stylish boots. If you're new to this style, start with small pieces like a choker necklace or a lace top and gradually build your gothic-inspired collection.
Motocross Energy: Edgy and Athletic
If you're looking to add some edge to your fall wardrobe, think leather jackets, moto boots, and cargo pants. These athletic and edgy pieces can give your outfits an exciting twist.
Styling Tip: Layer a leather jacket over a dress or skirt for an effortlessly cool and edgy appearance. For a more relaxed vibe, pair it with jeans and a cozy sweater. Don't forget to consider moto boots to inject a touch of toughness into your ensemble. Combine them with jeans and a simple t-shirt for a laid-back look or with a skirt and heels for a night out.
Saturday Morning Cartoons: Fun and Playful
Bright colors, bold patterns, and whimsical details define the Saturday morning cartoons trend. Oversized sweaters, graphic tees, and sequined skirts add a touch of fun and playfulness to your wardrobe.
Styling Tip: Opt for a vibrant sweater and match it with jeans and playful sneakers for a look that's as fun as it is stylish. Experiment with layering by adding a graphic tee under a blazer or cardigan for a polished appearance. Sequin skirts are another fantastic way to incorporate fun and whimsy into your outfit. For a casual style, pair them with a t-shirt and sneakers, or dress them up with a blouse and heels for a night out.
Laced-Up Looks: A Touch of Sensuality
With laces and cutouts on dresses, tops, and pants, the laced-up look trend adds a hint of sexiness to your wardrobe.
Styling Tip: For an elegant and sexy appearance, select a laced-up dress, complemented by high heels and statement jewelry. To achieve a more relaxed style, pair a laced-up top with jeans and boots. If you're new to this trend, start small with pieces like a laced-up top or pants and gradually expand your collection.
XXL Puffers: Warm and Stylish
Oversized puffer jackets are the ultimate statement this fall, combining warmth with style. They come in various colors and styles, allowing you to find your perfect match.
Styling Tip: Achieve a casual and cozy look by pairing an oversized puffer jacket with jeans and a snug sweater. For a more polished appearance, layer it over a dress or skirt. If you're sporting a brightly colored puffer jacket, keep the rest of your outfit more neutral to let the jacket shine as the star.
Additional Styling Tips for Fall Fashion 2023
Mix and Match Textures: Inject life into your outfit by mixing and matching textures. A leather jacket pairs wonderfully with a lace dress, while a velvet skirt complements a denim jacket.
Accessorize: Elevate your ensemble with the right accessories. Fall Fashion 2023 offers the perfect opportunity to flaunt a statement necklace, scarf, or hat to accentuate your look.
Be Bold:  Fall Fashion 2023 is the season to venture outside your comfort zone. Don't hesitate to experiment with various styles and trends, and discover your new favorites.
Conclusion
There you have it, folks – Fall Fashion 2023 is all about embracing the beauty of the season while staying snug and stylish. From trendy layers to rich hues, shoe styles to accessories, your wardrobe is about to undergo a fabulous transformation. So, when the chilly winds of autumn start to blow, remember that you can step out in style and comfort, exuding confidence like never before. This season, it's all about you and your impeccable fashion sense. Now, go ahead and enjoy Fall Fashion 2023 – A Season of Style and Comfort to the fullest. Happy styling, you fashionista!