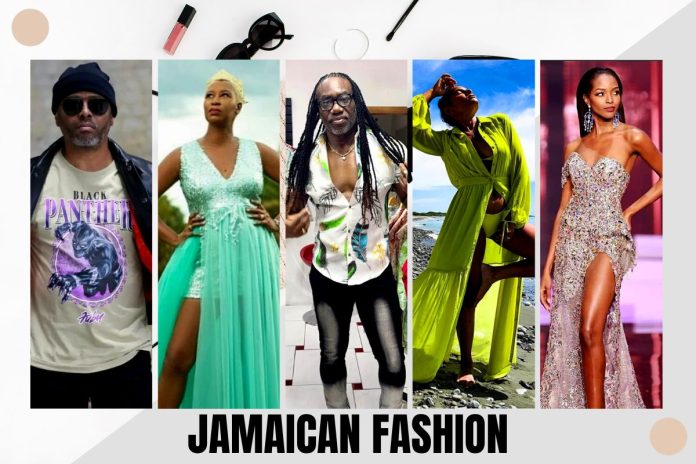 The fashion of Jamaica is known for its lively and unique characteristics that stand out from the rest of the world's fashion trends. With the increasing number of fashion brands emerging from Jamaica, there are now numerous talented designers creating new and innovative looks inspired by the colorful Caribbean culture and distinctive patterns. Jamaican fashion is influenced by the country's rich cultural heritage and the energetic nature of its people, featuring vibrant colors like blue, yellow, green, and red. This particular aesthetic can be seen in festival costumes, as well as the outfits worn by celebrities, from renowned athletes to international reggae and dancehall artists. Jamaican fashion is continually evolving, offering a range of styles that cater to all preferences, from traditional to modern. A list of exceptional and high-quality Jamaican fashion brands can be found below, spanning from swimwear and resort wear to more conventional and sophisticated pieces.
Carlton Brown
Carlton Brown's incredible story of resilience and success is one for the books. Despite growing up in the foster care system without ever knowing his birth parents, Carlton still managed to develop a passion for fashion design. He was lucky enough to have a foster family that included a fashion designer and dressmaker who worked with tailors, giving him an early start in honing his skills.
After studying fashion at HEART and Melna Fashion, Carlton went on to intern with Andrew Ramroop, one of the world's best tailors on Savile Row in London. Though he had to cut his internship short to be present for his children's lives, he quickly gained recognition as one of Jamaica's top tailors and designers. His impressive resume features some of the biggest names in Jamaican culture, from Beenie Man, Bunny Wailer, and Usain Bolt to Protoje and Devin Di Dakta.
Carlton Brown has an undeniable zeal for fashion and uses it as a medium to express himself. He loves to toy around with various fabrications, colors, and cuts, crafting one-of-a-kind menswear that is sure to draw attention. His creative eye and meticulous craftsmanship have earned him prestigious recognition within Jamaica and the Caribbean. He feels immensely blessed to have been able to make a name for himself in the industry.
Shenna Carby
Jamaican Fashion would be incomplete without mentioning the talented Shenna Carby, who used her win in the Mission Catwalk competition as a stepping stone to greatness. Her eye-catching designs have become incredibly popular among female executives in the corporate world, with her biggest supporter being the amazing Mrs. Ann Marie Vaz, M.P., who's believed in her talent since the beginning. 
Ms. Carby has showcased her unique collections not just in Jamaica, but also in Miami, London, and Caribbean Fashion Weeks, as well as The Salon Bridal Showcase in New York. It's clear that her goal is to build Shenna Carby Designs into a global label, taking the world of Jamaican Fashion by storm. 
The typical Shenna Carby piece is timeless and can be worn for multiple events without ever going out of style. This way, you'll get value for your money while looking effortlessly stylish. When you wear one of her designs, you can't help but feel confident and stunning, proving that Jamaican Fashion is truly one of a kind.
Bill Edwards 
Bill Edwards, Jamaica's leading designer of first-rate men's clothing, has been pursuing his passion for fashion since he was a young boy. At the tender age of twelve – when other children were playing bat and ball – Bill was already working as a tailor's apprentice on Shortwood Road in Kingston, honing his craft and pushing himself to learn something new every day. Soon enough, he graduated from observer to doing odd jobs such as ironing and adding zippers, and even making alterations – garnering praises when he made a dress for his niece.
Armed with his sewing expertise and entrepreneurial spirit, Bill used his earnings to invest in a sewing machine. He established his business on the veranda of St. Andrew Technical High School (STATS) while still studying there and began designing garments for his peers, teachers, and even the principal. After graduating high school, he tied the knot with another designer who inspired him to put out clothes bearing the tagline: "Clothes that leave their mark on you"
In 1997, Lee Issa saw something special in Bill Edwards. She encouraged him to take his garments to the next level and give them a more polished, professional finish. And so, the Bill Edwards brand was born! From the start, it was known for its dynamic use of 100% Italian linen designs – and not just for men but for ladies also.
Jae Jolly
Are you looking for the next hot Jamaican fashion brand to add to your collection? Look no further than Jae Jolly, created by the talented Jamaican fashion designer Janel Jolly. She has dressed some of the most beautiful women in the industry, including beauty queen Yendi Phillips and the famous singer Keri Hilson. What's her secret? Well, she gets her inspiration from photography, using a captured moment of beauty to create a lifetime of fashion. 
And the best part? Her website has everything you need to look and feel your best. From swimwear to coverups, kaftans, tops, dresses, bottoms, jumpsuits, dusters, and accessories, you'll be sure to find something that suits your unique style. So what are you waiting for? Head on over to Jae Jolly's website and see for yourself why this Jamaican fashion brand is quickly becoming a favorite among fashionistas worldwide.
Uzuri International 
Discover the wonder of Jamaica's fashion scene with Uzuri International – a brand owned by the talented duo Mark McDermoth and Karl Williams, who also happen to be the owners of Miss Universe Jamaica. Uzuri, which means "beauty" in Swahili, has been dressing contestants in the Miss Jamaica Universe competition for years and is known for its elegant, handmade dresses. Since officially acquiring the brand in 2013, they have been wowing the fashion world with their unique designs.
Uzuri International effortlessly blends the vibrant spirit of the Caribbean with international fashion flavors. Their use of luxurious materials such as feathers, crystals, and high-quality fabrics is famous worldwide. Their signature sweeping hemlines and thigh-high splits are simply unforgettable and are showcased in every design.
In 2008, they became the first design house from the Caribbean to achieve a historical feat, when they were invited by Julia Morely, the Miss World chairman, to South Africa for the Miss World Coronation as guest designers. They outfitted all 112 queens from around the world for a special podcast opening musical segment.
From international celebrities, local political figures, socialite brides, prom princesses, beauty queens, supermodels, and regular folks, Uzuri International has established itself as a fashion powerhouse that will undoubtedly remain relevant for years to come. If you want to experience the beauty of Uzuri International and the Jamaican fashion scene, check out their stunning resort wear for both men and women – you won't be disappointed!
Bottom Line
In conclusion, Jamaican fashion is a unique blend of vibrant colors, lively patterns, and rich cultural heritage that sets it apart from the rest of the world's fashion trends. With designers like Carlton Brown, Shenna Carby, Bill Edwards, Jae Jolly, and Uzuri International at the forefront of the industry, Jamaican fashion has continued to evolve and capture the attention of people worldwide. Whether it's swimwear, resort wear, or traditional and sophisticated pieces, Jamaican fashion brands bring a fresh and exciting perspective to the fashion world with their beautiful designs, materials, and unique styles. It's clear that Jamaican fashion is an essential player in the global fashion scene and has much to offer for people looking for something one-of-a-kind.